Europe's largest high altitude ski plateau - The perfect family ski holiday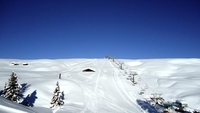 You would be forgiven for comparing this place to the rolling English countryside rather than the grey, granite, sharpness associated with many Alpine ski settings.
Alpe di Siusi is Europe's largest high altitude Alpine ski plateau and you would have to suppose, one of the most beautiful, unspoilt places on earth!
An easy 90 minute transfer from Innsbruck airport, this is a winter (and summer) gem is yet to be discovered by the British family skier. The beauty of Alpe di Siusi, also known as Siser Alm in the local Ladin language, has held people spellbound for Millennia. Once a feature of the 'Grand Tour', the plateau formed a main route from Austria through the Brenner pass to Venice. Today's visitors don't just pass through, they ski, toboggan, walk, drink, eat, sunbathe, cross country ski or take a horse and sled across this Heidiesk setting. Roger Fulton, editor of SNOW Magazine wrote of this place, "A scene that is quite the most idyllic I've seen in any winter landscape".
The ski slopes are comfortable for beginners and intermediates alike and surprisingly quiet given its convivial skiing environment.
The plateau, which sits at the western extreme of the Dolomites Superski region, is an area of some 22 square miles, offering 37 miles of 'alpine ski slopes', 49 miles of cross country ski track and seven official toboggan pistes! If you have yet to experience the thrill of a purpose built toboggan and piste, this is 'the' place to sit astride these wonderful, authentic wooden contraptions and let yourself go!
Take a winter walk along mile upon mile of wonderful winter track revealing an abundant selection of restaurants liberally dotted across the Alpe and each looking perfectly placed.
Access to the plateau is from Ortisei in the famous Val Gardena, setting for the World famous Mens Downhill race or take the long bubble lift from Siusi village itself, sitting beneath the spectacular Dolomite double pinnacles of the Scillar mountain that stance sentry at the western edge of the Dolomite region. There is a third slight less orthodox access option - the craziest bus ride that you will ever experience! A perfectly ordinary service bus, fully dressed in snow chains and huge open ski rack hanging from the rear of the bus, running a perfectly normal looking bus-timetable along a single track, off-road, logging trail! The bus follows the track as it twists, turns, rises and falls until the driver receives a radio message from his opposite number, upon which, the bus rests at one of the few available pull-overs where you sit and wait for the opposite bus to pass.
There is not much to challenge any competent skier on the plateau with only 1 mile of black runs. Skiing Alpe di Siusi is fun, relaxing and cruisey, with around 58k of blue and red pistes served by 23 modern lifts.
Siusi is steeped in its own mystical and rich history. Speak with locals who will share with you childhood summer stories of cowboys tending family cattle, climbing the Scillar to prove their manhood, of operas, Witches and Warlocks.
Alpe Di Siusi is a magical place. And at €252 for a six day adult, high season ski pass, well worth investigation for your family ski holiday.
About Inspired Italy, The Ski Safari - In 1989, Tim Hudson and Louise Anderton organised their first active holiday to Umbria, Italy with a small group of like minded friends.
Four years later Tim and Lou were married and 25 years on, through their own business, Inspired ITALY Ltd. and The Ski Safari, they continue to create unique, soft adventure, active travel holiday experiences for small private groups, specialising in the Dolomites and in Umbria.
"Louise and I love sharing our soft adventure experiences all of which we do with a certain calibre!" says Tim.
As Roger Fulton, editor of SNOW Magazine said about Inspired ITALY's Dolomites Skiing Safari, "These are not the kind of places you stumble upon by chance and perfectly illustrate the wisdom of tapping into local knowledge."
You will find both Louise and Tim on the phone every day discussing clients needs; you also find them on the Dolomites ski slopes, in the eBike saddle, in the kitchen and on the footpath, leading small groups with a personal touch and keeping an eye on the quality of experience.
For further information, visit TheSkiSafari.com and inspiredITALY.com.