Sony offers 4K movie package for free to its 4K Ultra HD TV customers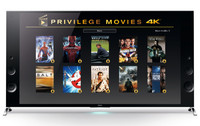 Purchasers of selected 2014 Sony BRAVIA 4K Ultra HD TVs can now enjoy the Privilege Movies 4K offer in the comfort of their home. Customers can choose five stunning titles from a choice of ten Hollywood blockbusters in the beautiful detail of 4K.
Movie titles are pre-loaded on to a compact HDD for ease, which can be claimed at no additional charge via redemption on the Sony website upon proof of purchase.
This unique offer from Sony adds to the momentum behind 4K which has become unstoppable following ground-breaking 4K content from platforms including Netflix and Amazon.
The movie choice available includes a breadth of classic and contemporary BAFTA and Oscar nominated movies:
1. The Amazing Spider-Man 2
2. The Amazing Spider Man
3. Moneyball
4. Premium Rush
5. Total Recall
6. Salt
7. Ghostbusters
8. The Patriot
9. Battle LA
10. Captain Phillips
The promotion is running between the 31st October and 27th December 2014 and all purchases must be redeemed by 31st January 2015. Once redeemed Sony customers have until the 30th September 2015 to unlock their 4K blockbusters and until 30th September 2016 to watch them.
In addition to the seven 4K series currently on offer from Sony, the latest introduction is the BRAVIA S90 that's available in stores and to order direct from Sony now. Available in 75" and 65" sizes, its subtly curving screen wraps you gently in fabulous 4K pictures, while advanced picture technologies brings your favourite entertainment to life with thrilling clarity, brightness and colour. A new 4.2 channel Multi-angle Live Speaker system uses precisely-directed separate drive units, wrapping you in expansive 360° surround sound.
For more information on Sony 4K Ultra HD TVs, see 4k.sony.co.uk