New Pulsar is third Nissan to gain maximum EuroNCAP score in 2014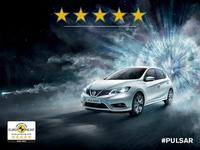 Nissan has strengthened its credentials as a brand you can trust to offer the highest levels of safety, following another five-star star rating by independent testing organisation EuroNCAP. The Pulsar's rating makes a hat-trick of five star ratings for the brand, coming just weeks after the new X-Trail and new Qashqai were also awarded the maximum five-star safety ratings.
In its crash test report, EuroNCAP highlighted the Pulsar's impressive strength, rating leg and femur protection as good and adding that even in EuroNCAP's most severe pole tests, dummies were found to be well protected against injury. The report also awarded maximum points for Child Occupant protection (1 ½ year old dummy) and praised the Pulsar's pedestrian impact protection levels.
Safety built into the core of every Pulsar
EuroNCAP's findings confirm Nissan's own analysis of the Pulsar's safety credentials, and serve to highlight the car's exceptional levels of protection for driver and passengers. Safety has long been a cornerstone of Nissan's design and engineering philosophy, and brand's commitment to advancing both passive and active safety systems continues to mark it apart from the competition.
The Pulsar showcases sector-first safety technologies, including Moving Object Detection. This advanced system builds on the capabilities of the acclaimed Around View Monitor, and gives the driver a 'digital co-pilot' to help them look at what might be approaching the path of their reversing Pulsar. Other safety systems available to Pulsar buyers include Forward Emergency Braking, Lane Departure Warning, Blind Spot Warning and highly-efficient LED headlamps.
Pulsar - introducing quality and Nissan innovation to the C-segment
Officially unveiled at the Paris Motor Show in October and now on sale across Europe, the Pulsar combines practicality, technology and quality in a package that redefines sector standards for value. Created with the same DNA as Nissan's celebrated and best-selling crossover models, the all-new Pulsar has been designed to specifically to meet the demands of C-segment buyers, and features exceptional levels of practicality - including sector-best rear legroom.
The Pulsar line-up features three engine options, with outputs of 110PS, 115PS and 190PS - with all three equipped with Idle Stop-Start as standard, helping to reduce CO2 emissions and boost fuel efficiency.