WMS Group And Aylesbury Motor Group to make TV debut with Mary Portas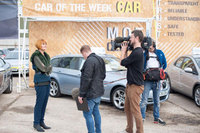 Leading warranty firm the WMS Group and Aylesbury Motor Group have announced their involvement in a new prime television series starring retail guru Mary Portas.
TV's legendary Mary Portas, known for her high street retail expertise, sharp business acumen and even sharper tongue, has been working closely with Gatehouse Car Sales filming a new prime Channel 4 series airing later this year. The show, which focusses on shaking up the UK's motor trade through delivering exceptional customer service and aftersales support, will bring a number of innovative selling ideas to dealerships to assist in improving the customer experience and ultimately their retention levels.
As part of their restructuring, Gatehouse Car Sales of Gatehouse Way, Aylesbury - Aylesbury Motor Group's approved used car site - have adopted the WMS Group's flagship warranty scheme 'Safe and Sound', endorsed by motor racing legend Sir Stirling Moss OBE. The scheme carries a retail value of around £500, however 'Safe and Sound' dealerships are required to include the elements free of charge with each approved vehicle. It includes a six month wear & tear warranty, complete safety inspection, full provenance check, breakdown package and more.
Paul Cockton, sales director of Aylesbury Motor Group comments: "Mary has turned Gatehouse upside down these past few weeks! The site has been refurbished, staff have been shaken up and retrained, we have a brand new identity, our stock has been streamlined and of course the 'Safe and Sound' scheme is now being offered free of charge with each model. The new Gatehouse is a far cry from how it was a few weeks ago, and we hope that our customers will appreciate the changes we've made."
Steph Newbery, WMS Group marketing manager added: "This has been an incredible opportunity for both the WMS Group and Gatehouse. The programme focusses on ensuring that every customer will receive the same high level of service and protection, and 'Safe and Sound' has been recognised as a mark of quality. Mary has introduced a number of innovative ideas within Gatehouse's operation, and we are sure that many other dealerships will be able to benefit from them too. We would like to thank everyone involved for selecting our flagship motoring scheme, and are confident that the dealership's used car buyers can look forward to receiving exceptional care during and after their purchase."
Gatehouse Car Sales, the approved used car site of Aylesbury Motor Group (Honda and Nissan) were accepted by the BAFTA award-winning TV production company Optomen Television earlier this year. Optomen arealso the company behind Gordon Ramsey's Kitchen Nightmares, Police, Camera, Action and Kevin McCloud's Man Made Home.
Mary Portas is renowned for bringing customer service back to the heart of business, having helped all types of companies from charity shops to furniture stores and big chains. This is Mary's sixth series of programmes, with previous shows including Channel 4's Queen of Shops, and Mary's Bottom Line.