Chargemaster keeps UK charging network 99% operational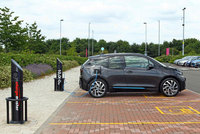 Chargemaster, the UK's largest supplier of electric vehicle charging infrastructure, is keeping its charge points in London and the rest of the UK online with its industry-leading operations.
Earlier this year, the British firm installed its 10,000th public and commercial charging point and, along with a telephone support line that is open 24 hours a day, 7 days a week to resolve urgent issues, has a dedicated team of electricians and engineers to fix any faults, typically within 48 hours.
David Martell, Chargemaster CEO, said: "We are proud to have the best-maintained charge points not only in London, but across the entire UK electric vehicle charging estate. Our own Chargevision back-end management system is the best in the business and provides us with diagnostics on every single one of our charge points, every minute of the day."
Chargemaster, through its sophisticated Chargevision system and its own dedicated national maintenance team of technicians, is able to monitor the operational availability of its network. Over the last year, its owned and maintained infrastructure achieved a 98.7% serviceability record for all charge points on a month-by-month basis.
Today, just two charge points installed and maintained by Chargemaster in London are not fully operational, and both of these are scheduled to be back online within the next few days.
David Martell added: "We take maintenance and serviceability very seriously. As the UK's largest provider of EV charging infrastructure, we have a responsibility to ensure that electric car drivers can rely on our network to enable them to complete their journeys."
Chargemaster infrastructure is part of the Source London charging network, a scheme which involves more than 60 site/charge point owners – from local councils to car park operators. Contractually, funding currently exists for the maintenance of London's EV infrastructure and Chargemaster believes that if this funding was properly reclaimed by charge point owners, any sites that are currently out-of-service could be brought back online swiftly.