Simmons Bar Fitzrovia opening on November 20th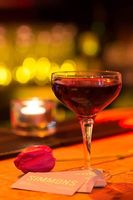 Good things come in threes! The folks that brought you Simmons King's Cross and Simmons Camden have now made their way to Fitzrovia, with their new cocktail bar 'Simmons Fitzrovia'. Serving up a delightful variety of delicious cocktails, craft beers teamed with an eclectic programme of entertainment, this new kid on the block is sure to impress the London centric crowd.
Located in the bustling area of Fitzrovia, this bar is hard to miss, with the renowned Simmons sign located above the door inviting you in. If that doesn't catch your eye the mismatching vintage lamps (a signature staple of Simmons Bars) can be spotted through the windows from the street.
The two storey bar laden with wooden floors and vintage seating is airy and bright with its own quirky vibe. Shield your eyes from the sparkling reflection of the mirrored skull disco ball that greets you as you enter. Guests can take a seat at the high tables while choosing from an extensive menu of craft beers, cocktails and wine. Spot the colourful funky wallpaper that gives you that warm familiar feeling, as if you are in your eccentric aunt's living room, while neon light signs and different shaped clocks and frames drape the walls.
Hideaway downstairs for a little midnight mischief in one of their arched caves. This drinkers' paradise is equipped with a full bar and DJ station, perfect for an office party, birthday or just a fun night out with friends. With a capacity of up to 100 people, this basement drinking den is perfect for a private group gathering and the good news is it's available to rent. If it gets a bit too heated inside, converge outside under the stars with their seating area out front. Equipped with fire blazing heaters and canopys, it works whether it's winter or summer!
With their marathon happy hour from 4pm-9pm, Sunday- Friday there's no need to break the bank to have a good time. Bottled beer, spirit & mixers or glasses of wine are available for just £2.50 a pop! Cocktails are 2 for £10, share a bottle of wine for £10 or pick up a bottle of Prosecco for just £15. Their well stocked bar includes a variety of ales and ciders (craft and mainstream), classic cocktails in teacups and teapots, bottled beers, as well as an extensive continental wine list with a variery of bar snacks if you're feeling peckish.
Open from 1pm to 1am this whimsical watering hole will keep you entertained from dawn till dusk. With friendly staff, a house party vibe and local DJ's pumping out some old school tunes this quirky venue is sure to attract the crowds and become the next favorite haunt in Fitzrovia.
Simmons Fitzrovia
28 Maple Street, London, W1T 6HP
Opening Times: Monday to Sunday 1pm – 1am