The office Christmas party: A survival guide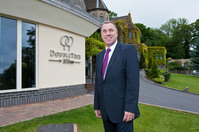 The festive season is fast approaching, and while minced pies and presents are all fun and games, Christmas time also brings with it a raft of potential social disasters. The office Christmas party is top of the list for causing embarrassing headaches – and not just because of the Champagne hangover.
As well as being a chance to relax and get to know your colleagues, there are also dangerous opportunities to ruin your reputation, fuel gossipmongers, and even get fired!
Colin Badcock, general manager of Doubletree by Hilton, Cadbury House in Congresbury has years of experience in the hospitality sector and has seen it all before. To help guide you through this social and professional minefield, here are his top tips:
1. "As difficult as it sounds try not to drink too much, and be careful not to drink on an empty stomach. The bar may be free, but your dignity and reputation are priceless."

2. "Don't flirt or canoodle, with any colleagues. This - for many reasons - can only ever end badly."

3. "Don't let anyone take a photo of you that you'll regret existing. Every workplace has a wannabe-paparazzi taking pictures at every opportunity, and these days the evidence of your drunken shenanigans will be all over Facebook the next day. Be warned."

4. "Do not think of this as an opportunity to complain about your job or ask for a raise – there will be proper channels within your company to do this. A slurred conversation with Wham playing in the background is not the time."

5. "Lastly, don't talk about work. It's Christmas and it's a party – no one wants to hear it!"
DoubleTree by Hilton, Cadbury House and the Marco Pierre White Steakhouse Bar and Grill in Congresbury offer several Christmas party packages.
For further information visit cadburyhotelbristol.co.uk.