New exceptional butler service at Lotte Hotel Moscow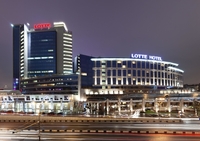 The award-winning luxury Lotte Hotel Moscow continues to refine its services and now offers personal butlers on-call. The team of 10 certified butlers with a passion to serve has received a tailor-made training from the world-famous Bogarts Butler School and are at guests' disposal.
A deep knowledge of etiquette and protocol as well as valeting, luggage packing and unpacking, shoe polishing, table serving and exceptional servicing are the examples of skills that have been trained. Our professional butlers will provide personalized service and fulfill any quest's request.
"The butler in the hotel is a person who can do all the operational tasks that a hotel can provide to a guest. If you compare with a general manager of the hotel, a butler can be a general manager of a suite. It's a person that can anticipate guest's needs and serve the guests in a best possible way. Excellence in service is what people are looking for." – explains Marten Bogarts, owner of the Belgium Bogarts Butler School.
"We are constantly working to improve ourselves; we are looking for new opportunities to provide our guests the top-level, truly impeccable and unforgettable service. Numerous awards as the best hotel in Russia that Lotte Hotel Moscow has received prove that we are going in the right direction. Exceptional and unique service makes us different from other hotels in Russia and we will continue working on it." – says General Manager Morten Andersen.
Lotte Hotel Moscow butlers ensure anticipation of all guest needs and provide the service of the highest standards. This new service adds great value to the customers and brings the hotel to a new level of perfection.
About Lotte Hotel Moscow
Located on Novinskiy Boulevard in the very heart of Moscow, the luxurious Lotte Hotel Moscow was opened in September 2010. It offers 300 spacious standard rooms and suites, the largest Royal Suite on the continent and two splendid restaurants – Les Menus, a French cuisine restaurant managed by the Michelin's three-star ranked chef Pierre Gagnaire, and MEGU, a modern Japanese restaurant which is part of the famous New York MEGU.
Lotte Hotel Moscow also boasts six conference halls capable of accommodating banquets and business events of any size and format, an innovative Executive Club Floor, a three-level underground parking facility, and a state-of-the-art fitness center and pool. The world-famous Mandara Spa combines the ancient Balinese spa traditions with the latest achievements of the Elemis and Bellefontaine cosmetics lines. The hotel offers a wide range of top-level services that will surpass expectations of even the most demanding guests.