Introducing the Pisco Bar at LIMA Floral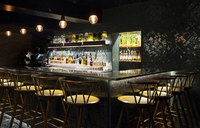 With the sign now officially above the door, the Pisco Bar at LIMA Floral is well and truly open for business. The specialised bar is a destination in itself, offering a range of Peruvian inspired cocktails and a menu of small plates known as piqueos, best described as Peruvian tapas. The 30 cover basement venue provides the perfect setting in which to relax and enjoy a taste of Peru's drinking culture in whilst escaping the bustling streets of Covent Garden.
Created by bar manager Damiano Barbato, the cocktail list has been influenced by classic Peruvian flavours with the liquor Pisco featuring heavily. The national cocktail of Peru, the Pisco Sour, a smooth, refreshing short drink bursting with citrus flavours, is not to be missed. A variety of home infused flavoured Piscos can also be added to customise the classic drink, including: rocoto pepper, huacatay herb (an Andean mint which tastes like a mix of mint and basil), orange and lemon peels, and raisin and cinnamon. Innovative new creations available include El Senor de Sipan (Prosecco, apple juice, raspberry syrup, Pisco, Campari, and Pisco foam), and El Solitario (Pisco, Triple Sec, strawberry syrup, and ginger ale).
A Pisco Bar snack menu is on offer for those looking for a light bite with their cocktails. Robert Ortiz, executive chef, has created a menu in traditional "piqueos" format, designed for sharing and experimenting over a social drink. Peruvian cooking is as diverse as the geography and landscape of the country and a selection of small dishes is representative of three distinct areas of Peru: the Amazon, the Pacific Coast and the Andes.
Some of Ortiz's favourites include organic salmon tiradito (yellow tiger's milk and sweet potato crisps), aubergine anticucho (Amazonian cashew, cheese, coriander and cress), Huancaina beef tostada (toasted corn crisp, sliced beef, cheese, white quinoa) and tuna Nikkei ceviche (tuna, ginger, soy sauce, rocoto pepper, tiger's milk and sea asparagus).
With the popularity of Pisco on the rise, the Pisco Bar at LIMA Floral is at the forefront of this drinks trend in London, offering a vibrant new destination to Covent Garden's bar scene. The upscale bar is an ideal place for those who are serious about their cocktails to discover Pisco, and ultimately to enjoy themselves in the vibrant, friendly atmosphere of LIMA Floral. The bar welcomes walk-in guests, for drinks alone or to dine from the piqueos menu, as well as taking bookings.