Vira Vira Hacienda Hotel opens in Pucon, Chile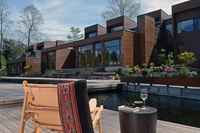 Chile's adventure capital Pucon welcomed the October 1 opening of the region's first all-inclusive luxury lodge, Vira Vira Hacienda Hotel. More than a lodge, Vira Vira is a holistic retreat for the body and mind, located on the shore of the Liucura River just 10 minutes from Pucon and surrounded by 100 acres of pristine parkland and wilderness. As part of the property, the Vira Vira operates a small-scale farm and dairy that provides guests with a connection to pastoral life, as well as fresh, healthy cuisine made with products such as handmade cheese and organically grown fruits and vegetables, taking the "farm to table" concept to a new level.
Spread across a grassy expanse with a stunning view of the crystalline waters of the Liucura River in the foreground and Pucon's forested peaks beyond, the Vira Vira was crafted using exquisite local wood such as lenga (southern beech) and alerce (known as the South American sequoia), all harvested sustainably from fallen trunks.Vira Vira life centers around a main lodge, with 21 comfortable and well-appointed guestrooms distributed around the property: six junior suites in the main building; 12 spacious split-level Villa suites along the Liucura River; and three guestrooms in an owner-operated home for a more local experience. All rooms come with luxe bedding and amenities and a colorful decor of locally crafted woolens and arts & crafts; all furniture was custom-built for the Vira Vira by internationally renowned furniture designer Santiago Valdés. Each river suite has its own indoor bathtub with a view and an outdoor soak tub overlooking the river, as well as floor-to-ceiling windows with panoramic vistas and fireplaces for a cozy ambiance.
The Vira Vira, which refers to a local plant known as "the herb of life" in the Mapuche language, offers a main lodge where guests can meet and unwind, and enjoy a gourmet restaurant, bar, library, and excursion planning center. There are several wood-burning outdoor hot tubs on the Liucura River, and guests are invited to take a stroll along the lodge's nature paths to look for woodpeckers and other wildlife, tour the farm and its cheese-making facility, watch cows being milked, or pay a visit to the lodge's Shetland ponies, dwarf goats and wild boar.
Pucon, a postcard-perfect village nestled on the shore of Lake Villarrica and dominated by the snowcapped Volcano Villarrica, is considered Chile's adventure playground and one of the most iconic destinations in South America for its myriad volcanoes and jagged peaks, dense forests that feel like stepping back millions of years into the Jurassic era, lakes and rivers, and plunging waterfalls at every turn. Every afternoon, bilingual guides meet with guests to plan for the following day's excursions, which can include the classic climb to the smoking crater of the Volcano Villarrica; a quiet kayak excursion on the forest-shrouded Lake Tinquilco; mountain biking through forests of 1,000-year-old monkey-puzzle trees; exploring volcanic caves; or light trekking through one of the region's two national parks. More low-key adventurers may opt for a quiet sail across Lake Villarrica or an outing to one of the region's famous natural hot springs to unwind and rejuvenate. Pucon has strong ties to the country's most populous indigenous group, the Mapuche, and Vira Vira offers a chance for visitors to explore their culture and cuisine. On-site activities at the hotel include fly-fishing on the Liucura River, as well as cooking and yoga classes, painting sessions, and even private massage treatments in the hotel's "Ruca" cabin.
The lodge is located just 10 minutes from Pucon, and can be reached by a 1.5-hour flight from Santiago to the Araucanía Airport (ZCO) near Temuco. The Vira Vira Hacienda Hotel's rates begin at USD $1,475 per person for a 3-night stay, and includes lodging, all meals prepared with local and organic ingredients from the farm, beverages, daily excursions with bilingual guides, and transportation from the airport to the hotel.
Location: About 780 km south from Santiago and 100 km southeast from Temuco, Pucon can easily be reached by plane, by bus, or car. The lodge offers private transfers from either Pucon or from the Araucanía Airport (ZCO), or the Temuco bus station.
Guest Rooms: Vira Vira features 21 attractive rooms in four distinct areas of the property: three Hacienda Rooms in the original Guest House (available upon special request), six Junior Suites in the main hotel building, and 12 Villa Suites on the banks of the Liucura River. Rooms are designed to combine modern comforts and clean lines with local artisanal decor. Each room has large windows and a spacious private bathroom, while the Villa Suites feature an outdoor soak tub overlooking the river.
Room Sizes: Hacienda Room: 20 sq. meters, en suite rooms located in original Guest House.
Junior Suite: 30-40 sq. meters, located in the main hotel building, with views of the lagoon and river.
Villa Suite: 75 sq. meters, located in a separate building close to the main lodge, situated along the shore of the Liucura River. Each room is equipped with an individual fireplace, living room, terrace overlooking the river and an outdoor soak tub.
Hotel Amenities: Farm and dairy on premises, restaurant, bar, library, excursion center, daily guided excursions, yoga, art studio, on-site fly-fishing, riverside wood-burning hot tubs, laundry, parking, transfers to and from airport and bus terminal.
Dining: Gourmet dining inspired by Chilean and regional recipes using fresh, home-grown produce, cheese and meat, accompanied by fine Chilean wines.
For more information, visit hotelviravira.com.