Locally sourced nostalgia in new Berkshire showhome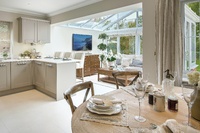 When it comes to designing the interiors at a beautifully built Millgate show home, evoking sentimentality for potential homeowners by purchasing nostalgic pieces over new was the key theme at Meadows Reach in Binfield, Berkshire.
Stacey Sibley, of Alexander James Interiors explains: "The overall theme of the four bedroom showhome at Meadows Reach was to create the feeling of nostalgia, a place where the potential homebuyer can envision themselves living, or have that feeling of familiarity with the designs. Perhaps a simple print or fabric might could remind them of happy times, or inspire them to how they want to live."
"I started with the wallpapers on this scheme which then gave a feature to each room. In the drawing room I used traditional looking hand printed style wallpaper but in a more modern soft grey tone while in the kitchen I used the antique hanging plate wallpaper. For the master bedroom a metallic pattern with a beautiful contemporary take on Chinoiserie and the second bedroom I used a lattice bamboo effect wallpaper and in the boys room the vintage travel map. Each room is then defined and has its own unique look."
Stacey continues: "I used vintage pieces throughout the property which adds a beautiful contrast to the crisp wallpaper and paint to the walls. I sourced pieces such as antique children's books, vintage tennis rackets and leather boxing gloves and mid-century suitcases all from local antique shops in Twyford, Cookham and Henley."
"This is especially visible in the bedroom designed for a young boy on the first floor. The room features a large
Marvel comic print of 'Spiderman' on vintage travel map wallpaper, with large prints of the 'The Adventures of Tin Tin' complete with his companion, 'Snowy', as book ends on the windowsill. The bedroom also includes toys fit for a boy growing up before the years of computer games, with a Ludo board game on the vintage wooden desk, antique tennis racket and a baseball bat and ball. We hope this might resonate with the parents looking to purchase a home here, reminding them of their own childhood."
"I wanted to give this house a modern country feel mixing classic rustic pieces with modern elements, so along with using antique pieces, all the artwork was sourced and made bespoke for the property. We worked with an art supplier who paints the canvases to go with the colours of the schemes. We work very closely in choosing the frames and mounts so that every piece works for each wall space in the property. Nearly all the upholstery was designed and made bespoke in the UK for the house which gives that tailor made, exclusive feel to the property, which it most certainly is."
Finished to the highest standards, Meadows Reach is an exclusive new development of attractive 18 three and four bedroom homes. The homes are perfectly positioned, nestled in a leafy surrounding with mature trees, a running stream and open meadows on the edge of the family friendly village of Binfield, Berkshire.
Exceptional attention to detail, coupled with a high specification is what homebuyers can expect at Meadows Reach. All kitchens are designed on an individual basis and incorporate a comprehensive range of floor and wall cabinets complemented with stone work surfaces and up-stands. Integrated Siemens appliances include a fridge/freezer and dishwasher.
The bathroom, cloakroom and en suites are equipped with Villeroy & Boch sanitaryware with contemporary chrome furnishings. Typical of Millgate, buyers can expect gardens to the front and rear which are laid to lawn with quality seen grown turf including areas of planting.
Prices start from £420,000 at Meadows Reach. For more information, visit romans.co.uk.