Celebrate Yukon's wintertime revelry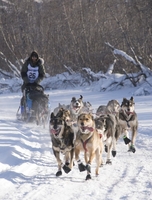 February is the 'hottest' time of year in Whitehorse – for festivals that is! Dance the night away at Frostbite Music Festival – Canada's premier winter music festival – or try northern traditions like can-can dancing and chainsaw chucking at the Yukon Sourdough Rendezvous. Watch the legendary Yukon Quest International Sled Dog Race, or attend the Available Light Film Festival.
Prepare to join the fun for days of unforgettable entertainment as you discover the authentic, unpretentious Yukon. Meet Yukoners, learn about local traditions and share a story or two at one of Yukon's lively winter events and festivals.
Available Light Film Festival
6 - 15 February, 2015
Canada's largest feature film festival North of 60
The Available Light Film Festival (ALFF) has been a fixture in the territory's cultural scene for over a decade. Every year, the festival screens the best of contemporary Canadian and international film to eager audiences in Whitehorse. ALFF provides the opportunity to see award-winning films, participate in workshops and the ALFF Media Industry Forum, and be transported to other worlds in the dead of winter. Get cozy with the locals in a darkened theatre to share an intimate cinematic adventure. yukonfilmsociety.com/alff/
Yukon Quest International Dog Sled Race
7 - 21 February, 2015
Experience the thrill of the world's greatest sled dog race
The legendary Yukon Quest challenges mushers and their dog teams to traverse the frozen wilderness between Whitehorse, Yukon and Fairbanks, Alaska each February. Spectators from around the world travel to the Yukon to witness the event live, while thousands follow the race progress online. The Quest trail follows historical gold rush and mail delivery routes, but varied weather and trail conditions provide a fresh challenge for mushers and their dogs every year. yukonquest.com
Frostbite Music Festival
14 - 16 February, 2015
Canada's coolest winter music festival
The Frostbite Music Festival got its start in 1979 when some folks got the crazy idea of bringing musicians to the Yukon in the dead of winter. Since then, Frostbite's been chasing away the winter blues and bringing people together for a weekend of excellent music, sweaty dancing and community spirit. An intimate atmosphere and diverse array of local and national performers combine to make Frostbite the perfect place to connect with locals and experience northern hospitality at its best. frostbitefest.ca
Yukon Sourdough Rendezvous Festival
18 - 22 February, 2015
Celebrating Yukon's tenacious, frontier spirit
For a week in February, Whitehorse buzzes with energy that brings Yukon's heritage alive and heralds the coming of spring. Enjoy family-friendly and sporting events by day like the pancake breakfast, axe throwing, dogsledding, flour packing and chainsaw chucking. At night, the raucous fun gets in full swing with Sourdough Sam competitions, crowning of the festival Queen and roving performances by the world-famous Snow Shoe Shufflers and Rendezvous Can Can dancers. yukonrendezvous.com/
New for 2015! Yukon Winter Adventures offer a one-stop shop for all things winter, provided by experts in hospitality and wilderness guiding. You can experience Dogsledding, Snowmobiling, Snowshoeing, Ice fishing and Northern Lights viewing - all activities start right at your doorstep, which is the remote and unique Tagish Wilderness Lodge. Guests will learn how to run and care for a dogteam from local experts and be taken on a memorable trip across the frozen landscape. At night, they will stay in cozy log cabins, enjoy great food and fascinating stories in a comfortable atmosphere. With a 2:1 customer/guide ratio, this makes for a very personalized experience with small groups and lots of opportunity to chat with the mushers, interact with the dogs and simply enjoy the vast beauty of the Yukon winter wonderland! yukonwinteradventures.com/
Windows on the Wild offer an 8 day 'Husky Adventure in the Yukon' from £1680 (land only) per person windowsonthewild.com
Background on Yukon
Situated in the upper Northwest corner of Canada, next to Alaska, the Yukon is Canada's most accessible northern destination, and with scenic drives into all corners, it's a driver's dream. The territory boasts a network of highways that rank among the world's premier driving adventures including the legendary Alaska, Top of the World, Klondike and Dempster highways. Yukon also has an exhilarating combination of postcard scenery, heritage sites and cultural attractions and just beyond the dashboard are inviting towns, campgrounds and countless adventures.
This is a land of friendly characters, midnight sun and breathtaking scenery. In fact, the Yukon is one of North America's major wilderness attractions; close to 80 percent remains pristine wilderness with 5,000-metre peaks, forested valleys, unspoiled waters and untamed wildlife. Roughly the size of France, the Yukon is home to more than 160,000 caribou, 70,000 moose, 22,000 mountain sheep, 7,000 grizzly bears, 10,000 black bears and 250 species of birds… and only 36,000 humans!