David Beckham voted celebrity Brits would most like to have breakfast with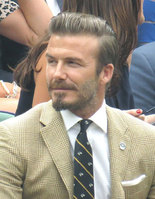 New research by Hilton Garden Inn has revealed David Beckham is the celebrity Brits would love to sit down for breakfast with.
The former Manchester United and England footballer topped a poll of more than 2000 people which quizzed them about their dream early morning dining partner.
Becks, 39, narrowly pipped the Duchess of Cambridge, Kate Middleton, to the No1 spot, while pop star Cheryl Fernandez-Versini was third.
Hollywood pin-up George Clooney finished fourth, while Essex girl and stage star Denise Van Outen came fifth.
Mark Nogal, regional head, focused service brand management, EMEA, Hilton Worldwide, said, "It just goes to show David Beckham is just as popular with the British public as he ever was as it takes a lot to pip a Royal to the crown of No1 breakfast partner.
"At Hilton Garden Inn, our signature cooked-to-order breakfast, which includes our freshly-made waffles, has always been a favourite for our guests and all of the celebrities featured on our list are welcome down any morning to try some!"
To mark the release of the celebrity Top 10, Hilton Garden Inn staff this morning served up free breakfasts for workers outside London's Canary Wharf from a special food truck.
The research coincides with the launch of Hilton Garden Inn's newest hotel at London Heathrow Airport which is due to open its doors on 10th December 2014, offering guests the brand's signature cooked-to-order breakfast as well as waffles with a wide range of toppings.
Hilton Garden Inn London Heathrow Airport will join the brand's portfolio of more than 600 properties worldwide which includes a host of city location such as Istanbul, Turkey, Birmingham, UK, Seville, Spain and New York, USA.
The full Top 10 is as follows:
1st - David Beckham
2nd - Kate Middleton
3rd - Cheryl Fernandez-Versini
4th - George Clooney
5th - Denise Van Outen
6th - Suzanna Reid
7th - Brad Pitt
8th - Tess Daly
9th - Prince William
10th - Rosie Huntington-Whiteley