Redrow buyers can save money in first four months in their new home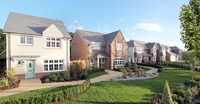 A new mortgage product which reduces homeowners' monthly repayments in the first four months has been made available exclusively to purchasers of a brand new Redrow home.
It follows a link-up between Leeds Building Society and Redrow to celebrate the homebuilder's 40th anniversary this month and reflects the fact that buyers often find themselves short of cash for those extras that make a house a home.
The five-year fixed rate deal – an exclusive version of the Society's award-winning Welcome Mortgage - includes 0% interest for the first four months and is then fixed at 4% up to and including 31 January 2020. The product also gives borrowers £400 cashback upon completion.
Customers pay the capital element of their monthly repayment in the first four months so they will be reducing their total home loan from the start, but the overall monthly amount for those first few months will be lower – potentially by as much as £370 per month based on a £200,000 loan over 20 years.
Martin Richardson, General Manager – Business Development at Leeds Building Society, said: "A Money Advice Survey in 2012 revealed that 68% of customers underestimated the cost of moving home. After paying for all the associated fees – mortgage, solicitors, etc – there was often little left for other things. And people who had previously been renting may be required to honour their existing tenancy agreement and so need to support two properties for a short period.
"We developed our award-winning Welcome Mortgage, which keeps monthly payments lower in the initial months to support borrowers, allowing them to buy items for their new home, to decorate, or simply re-build their savings – the choice of what to do is theirs. We're offering this exclusive version of our Welcome Mortgage to customers of Redrow Homes to mark the company's 40th anniversary celebrations."
The new mortgage product is available now to purchasers of new Redrow homes across England and Wales, up to a maximum 85% LTV, and the homebuilder's new homes mortgage specialist advisers will be able to provide all the detail.
Dave Bexon, Group sales and marketing director for Redrow, said: "We think it's a great idea to help our customers offset some of the costs of moving home."
Redrow offers a wide range of new homes across England and Wales, from one and two-bedroom starter homes to three, four and five-bedroom family homes, large executive detached villas and luxury city centre apartments. For details of a development near you visit redrow.co.uk.