Double top for Peugeot in eco awards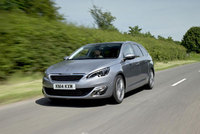 Peugeot has once again revealed its impressive environmental credentials, with the 308 scooping two 'green' awards from different organisations.
It's been an impressive year for Peugeot, which also saw the 308 beat all-comers to win the much sought after and prestigious European Car of the Year title.
While both awards are for the same vehicle, the classifications are slightly different. At the Next Green Car Awards the 308 took top spot in the Small Family Car category, while at the Green Apple Awards it was honoured in the Larger Family category.
Morgan Lecoupeur, Marketing Director at Peugeot UK, commented: "No matter whether you think the Peugeot 308 is large or small, it clearly impressed the expert judges everywhere with its environmental excellence. It's been a great year for Peugeot and this salutes a design which has been recognised the world over. Its advanced platform engineering, lower body weight and class-leading low CO2 output are its key achievements, supported by class-leading PureTech petrol and BlueHDi diesel engines."
The Next Green Car Awards are about highlighting the year's cleanest new models, with recognition across 11 vehicle sectors. Innovation, value, drive experience and design also formed part of the judging criteria.
Winner in the Small Family category was the Peugeot 308 1.6-litre BlueHDi diesel. With CO2 emissions of only 82g/km, the award citation praised its good looks, lighter chassis and improved engine range. The judges also said the car combines a positive driving experience with class-leading fuel economy.
At the Green Apple Auto Awards, run in conjunction with the Midland Group of Motoring Writers, the 308 was the winner in the Larger Family Cars category.
The judges said it was a car which shows Peugeot is coming back on form, with one saying: "I've chosen it because... style meets economy with no corners cut. A simply delightful car."