New Year, New You at Boutique Hotel Vivenda Miranda, Algarve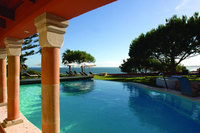 Nestled into the dramatic cliff tops above the stunning natural rock formations of the beautiful Western Algarve and enjoying panoramic Atlantic Ocean views, Boutique Hotel Vivenda Miranda is situated amidst the stunning beauty of the natural world. This New Year the hotel is providing a healthy focus to kick start your life with a rejuvenating and relaxing wellness offer with prices starting from just €740 per person.
Begin 2015 in a positive way and make a healthy start to your year and your life with our New YOU wellbeing break. Experience the wonderful health benefits of our new plant based menus that are bursting with nutrients and reflect the flavours of our region with local and organic produce.
You can be as active or as chilled as you like... Pamper and revitalise your body in our Neal's' Yard Remedies (NYR) ethical and organic beauty spa by enjoying a range of signature treatments that will nourish your body and soul; take invigorating cliff walks with a local guide to blow away those cobwebs; or work as hard as you like in our nearby state of the art gym with the option of a personal trainer! The choice is yours.
The break includes a three, five or seven night stay in luxury accommodation with a healthy breakfast buffet until 10.30 am or a la carte until 1.00pm which also includes an energising smoothie freshly prepared for you each morning. In the evenings you can enjoy our three course degustation menus that offer highly nutritious, plant based gourmet food with a healthy multiple course gala dinner being served on New Year's Eve.
Experience the tranquillity and relaxation of our NYR Spa or indulge in some NYR organic beauty products with €100 credit per person towards a treatment or treat of your choice - you decide. Why not get a feel for the delightful historic town of Lagos, with a guided discovery walk? Also included are cliff, countryside and beach walks plus unlimited use of the sauna, steam room, outdoor poor and use of our gym just a 5 minute walk away. A comprehensive range of optional activities are also available from limousine service from/to the airport to guaranteed tee times on the Algarve's leading nearby golf courses. Just speak to us about tailoring your perfect New YOU experience.
This discrete 25 room/suite former 17th century private home of a noble family, has lost none of its old world charm and is the perfect place to renew your mind, body and soul. However you decide to spend your time, go home feeling relaxed, healthy and positive having made a great start to your New Year.
Terms and conditions apply
For further details about Vivenda Miranda or to make a reservation go to vivendamiranda.com/uk/home.