Christabel's Mad Hatter Brunch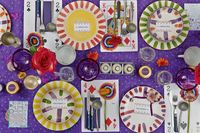 Christabel's Mad Hatter Brunch is pitching up in a new secret location where you will discover a surreal den of quirk and mismatch. Less than a minutes walk from Notting Hill Gate, you will discover a bright yellow door...Knock on The Little Yellow Door and you will be welcomed to an eclectic new pop-up bar based on a fictional flat share between friends from all walks of life. Expect a hearty brunch, film projections, bespoke cocktails and chatter!
Saturday 29th November, 1pm-6pm, Christabel welcomes you to dive into her wonderland feast of naughty treats, Cocktails by The Little Yellow Door, film screenings and vintage-disco music from DJ Nicola Marian Robinson (IT'S RUDE TO STARE).
Tables will be decorated with giant hand-made crafts, flowers and foliage. Your taste buds can commence as you read her hand-made glittery menus while sipping on her sparkling drink offering with floating crunchy pomegranate seeds before becoming immersed in her adorned banquet tables beaming with texture and color. Feast on her bountiful dishes of crispy bacon and maple syrup, scrambled eggs with spicy honey and thyme, pancakes, chocolate brownies and so much more. It's a journey not to forget.
Post brunch, from 3pm, people are all welcome to come join in and enjoy the mad hatters party. The Little Yellow Door team will be armed and ready to make all additional cocktails and drinks to meet your desires. Discover their experimental drinks list influenced by the flat mates' favorite TV shows. Taste bombs will be served in teacups. There are innovative cocktails such as My Name Is Earl, an Earl Grey infused gin, citrus, egg white and sugar short drink served in a teacup and saucer with biscuits on the side.
Tickets are £25 each and include a welcome drink. There will be a bartender armed and ready to make all additional cocktails and drinks to meet your desires.
W: thelittleyellowdoor.co.uk
W: christabels.org