Portugal's secret coastline - how to find the Algarve's hidden gems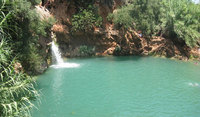 Portugal, like every popular coastal tourist destination, finds its beaches packed with visitors from May to September. While the vast expanses of sand at beaches like Praia da Rocha have plenty of room for everyone, certain cove beaches, such as Praia Dona Ana at Lagos, can feel rather too crowded during the peak of the summer. During those times, many locals slip quietly away and head instead for some of Portugal's most beautiful – and most tucked away – beaches.
As the winter sets in across the UK, Portugal has been enjoying an unusually warm October and November, prompting many to book a last minute winter break in the sunshine and giving them the opportunity to discover some of the incredible beaches that areas such as the Algarve have to offer.
Chris White, Founding Director of boutique real estate agency Ideal Homes Portugal, observes, "Once you have lived in Portugal for a while, particularly in the Algarve, you manage to come by some very useful information in terms of local beaches. Many holidaymakers delight in visiting the beaches near Albufeira and Vilamoura, and Lagos certainly has some charming spots. However, to avoid the crowds in mid-summer you need to know how to veer from the path a little, as many of our clients who purchase second or primary residences in Portugal soon discover."
Perhaps one of the most surprisingly quiet beaches during the summer months is Praia da Marinha. Named by the Michelin Guide as one of the top ten most beautiful beaches in Europe, Praia da Marinha is very much hidden in plain sight. It is easily accessible, has some fantastic diving trails mapped out and presents an idyllic, picture-postcard beachscape. Despite these attributes, the fact that Praia da Marinha's nearest town (Caramujeira) is off the tourist trail means the crystal clear waters are remarkably undisturbed.
Holiday homes nearby are extremely varied and include everything from bank repossessed apartments from €79,000 to luxurious, four bedroom villas costing in the region of €1.75 million.
For a family-friendly beach, the eastern Algarve's Praia Verde is an excellent option. The undulating sand leads to the creation of a series of shallow pools, which are perfect for even the smallest of beachgoers to splash in. As the beach is tucked away along a bumpy, pothole-riddled road many turn back before reaching it, ensuring that there is space for everyone over the summer months.
Praia Verde is located close to the town of Tavira, which with its picturesque river, ancient castle walls and pretty cobbled streets provides the perfect location for a day of laidback sightseeing. Properties in the area range from spacious two bedroom/two bathroom apartments, available from €116,000, to stunning contemporary villas costing in excess of €1.5 million.
Those who like the water would do well to seek out Pego do Inferno while in the Tavira area. This stunning waterfall plunges into a deep natural pool where a select group of those who have managed to find it swim and frolic with the fish while hardy locals dive from the branches of the tress above.
A stone's throw from the Algarve, just over the Guadiana River, which separates Portugal from Spain, lies a true locals' secret. Praia Fluvial de Alcoutim is a tiny, manmade river beach nestled in a shallow valley where both time and the breeze seem to stand still. It is backed by a large grassy area dotted with perfect spots for barbecues, while a small cluster of wooden huts sells cans of pop and ice cold beers.
The nearby town of Vila Real do Santo Antonio provides some excellent shopping, as well as ferry rides across the Guadiana to Spain. Apartments in Vila Real do Santo Antonio can be picked up for as little as €169,000 for three bedrooms and two bathrooms.
From hidden coves that are only accessible by sea to secret beaches that only the locals can reveal, the Algarve has some true gems for those who love being by the sea. Ideal Homes Portugal is offering inspection trips to the Algarve from £149 and the local team would be delighted to share their knowledge of Portugal's secret coastline with all those who book.
For further details of properties currently available in Portugal, visit idealhomesportugal.com.