Miss World Pageant comes to the London Marriott Hotel County Hall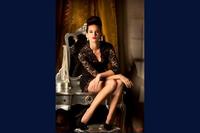 London's Marriott County Hall Hotel has been selected to be the host hotel for the 2014 Miss World Contest. The 125 contestants from all over the globe have now settled in to their new London home and have a packed calendar from now until the Grand Finale on December 14.
Reining Miss World Megan Young said: "I am delighted to be returning to the Marriott County Hall. I love to work out here – it's the best gym in London and the swimming pool is incredible. It feels like a second home to me having spent so much time with the hotel last time. I am looking forward to seeing some of the friends I made with the staff back then."
To be crowned Miss World the contestants have to survive elimination rounds in beach fashion, their individual 'Beauty With A Purpose' presentations, multi-media, sports, talent and modelling. The finalists then have interviews at the Grand Finale which will be held at the ICC Arena at Excel. They will be joined by the People's Choice competition which runs concurrently unless that winner has already been selected.
British women hoping to win Miss World 2014 are 24 years old medical student Carina Tyrrell representing England; business studies student Jessica Hayes, 20, from Eire; media student Rebekah Shirley, 19, from Northern Ireland, Scotland's Ellie McKeating, 20, who combines being a film, media and marketing student with working as a compere and model and 21 year old Alice Ford from Wales who is studying molecular biology.
Creator of the pageant, Julia Morley said: "The Marriott is a tried and tested hotel by us. We stayed here last time we held Miss World in the UK - it was so successful. It's a great team to work with, and every one of the staff was just fantastic."
Speaking of the partnership, General Manager of the Marriott County Hall Hotel Theresa Maw said: "We are delighted to once again be hosting these lovely women and the wonderful Miss World organising team.
"We have put together a special team of in-house experts in food, beauty, fitness and nutrition to ensure that every contestant is in tip top shape for their big day. With 125 countries taking part the food requirements for each Miss World is challenging but executive chef Gareth Bowen and his brigade have designed special menus to make sure each girl feels at home. The Miss Worlds have lots of time booked in the hotel gym and swimming pool which happens to be the biggest of any hotel! They will be experiencing the revitalising and beauty treatments on offer and hopefully will enjoy the special Miss World none-alcoholic cocktails that have been specially created. – all 125 of them!"