New resort for teenagers' ski holiday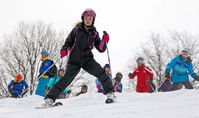 PGL, leading children's activity holiday company, has a new location for its February half-term Ski and Snowboard 'camp' for unaccompanied teenagers (13-17 years).
It is the Austrian village of Steindorf where the Hotel Schulga sits beside Lake Ossiach in the Carinthian region. This is a small and welcoming base for teenagers, with easy access to the Gerlitzen ski area – the highest peak in the area.
"With 46 kilometres of well-groomed pistes at up to 2,000 metres, the Gerlitzen offers very reliable skiing, and has the back-up of a battery of snow-machines", said PGL's Holiday manager Steve Hougham.
"Our February half-term holiday is perfect for teenagers whose family can't, or don't want to ski, and for kids with no opportunity to go on a school trip." he added.
Teenagers sleep in four-bedded en-suite rooms with PGL staff close by. Breakfast and dinner are served in the large dining room, and youngsters take a packed lunch to the slopes each day. Après Ski for teens is just as important as daytime activities, and the dining room is turned into an entertainment room each evening. The village also has a cinema and large indoor ice stadium.
This PGL holiday departs on Saturday 14 February 2015 with supervised overnight coach travel to Austria, six nights in the resort and another overnight coach journey back, returning to the UK on Sunday 22 February.
The Ski package costs £979 per child, the Snow Board package £999. (This is for London or Dover departures; supplements apply for Birmingham and Manchester departures.)
The package also includes six days' hire of boots, skis and poles (or boards), a six-day lift pass, between four and five hours' ski or snowboard tuition on each of six days, and winter sports and travel insurance.
For more information, visit pgl.co.uk.