Don't follow the crowds - Intimate weddings in the British Virgin Islands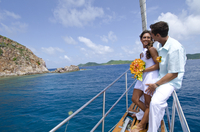 Consistently recognised as one of the most breathtaking destinations in the world, The BVI has no shortage of gorgeous backdrops to make for a truly stunning wedding location. Coupled with the fact that the local ministers and registrar are happy to perform ceremonies at any location of choice, The BVI is the perfect destination for couples who don't want to follow the crowds and pick their own exclusive spot to marry.
With so many islands and options to choose from, here is our suggested Top 5 of places to marry in The BVI:
1. The Baths National Park, Virgin Gorda – for those in awe of the wonder of nature
A geological wonder and undoubtedly one of The BVI's most famous attractions, these exotic pools and grottos, formed by ancient volcanic boulders, are the centrepiece of Virgin Gorda's north shore. Huge granite boulders create mysterious grottoes with nested sea pools, caves and pristine white sandy beach areas. For even more privacy, follow the shoreline north to the quieter Spring, Crawl, Little Trunk and Valley Trunk Bays, or head south to Devil's Bay (early morning or late afternoons are best for the most intimate ceremonies).
2. Cane Garden Bay Beach, Tortola – for the sunset romancers
Cane Garden Bay is the ultimate Caribbean beach. It has everything - swaying palm trees, a perfect sweep of fine powder white sand and turquoise blue waters that lap the shore. Above, and all around, the view of stunning tropical hillsides will astound you as the lush, green vistas stretch from the crescent beach that surrounds you all the way to the sky. For added romance be sure to hold your ceremony in the evening to catch the spectacular BVI sunset.
3. On a luxury yacht – for those looking to get away from dry land
With fair weather, steady trade winds, tame currents and hundreds of protected salt-rimmed bays, it's clear to see why the British Virgin Islands is heralded as a sailor's paradise. There really is nothing like sailing through these exquisite waters, finding secluded anchorages and breathtaking beaches so for a truly exclusive ceremony why not take your vows on the deck of a luxurious yacht with a spectacular backdrop! Whether you would prefer an intimate ceremony, or lots of guests to share your day, there is a beautiful yacht available to meet all of your needs.
4. White Bay Beach, Jost Van Dyke – for the beach and cocktail lovers
The only way to get to Jost Van Dyke is by sea, and with no dock at White Bay Beach, your ceremony would start in earnest with a 'paddle' to the shore. The backdrop is definitely worth the effort though as White Bay Beach offers the ultimate beach paradise with a long stretch of white sand and a reef at the bay's western edge, teeming with blue tangs, rainbow parrotfish and other marine life. You might even see sea turtles and bottlenose dolphins. After the ceremony, enjoy a celebratory 'Painkiller' cocktail from the birthplace of the famous drink, the Soggy Dollar Bar – a coconut, pineapple and orange juice concoction drowning in Pusser's rum and topped off with a little nutmeg.
5. Spring Bay Beach, Virgin Gorda – for those looking for pure seclusion
Adjacent to The Baths, Spring Bay Beach attracts fewer people making for a secluded wedding ceremony. Sprinkled with boulders, this stretch of soft white sand is one of Virgin Gorda's loveliest and features some of The BVI's clearest waters. Palm trees dot the beachfront, providing shade for guests, while silhouetted hills make for vistas that make for stunning backdrops whether looking at land or sea.
For those looking for the utmost privacy, an intimate ceremony in a luxurious villa offers a unique and personalised way to celebrate a special day in The BVI:
Baraka Point Estate, Virgin Gorda
Baraka Point's exotically decorated pavilions, lush tropical gardens and stunning beach front location make for an idyllic place in which to share one of the most important days of your life with family and friends. Vows can be exchanged in an array of locations: on the dramatic sea deck set in giant boulders at the water's edge, on the roof terrace with views to Long Bay or down on the secluded beach. Host your reception on the lawn with breathtaking views of the Sir Francis Drake Channel and enjoy an extravagant wedding meal, music and dancing under a canopy of stars.
A haven of peace and tranquillity, Baraka Point is the perfect private hideaway accommodating up to 14 guests in total with five king size ocean view suites and four small children's bedrooms. A fourth, larger pavilion incorporates the spacious living, dining and entertainment areas of the villa while the Spa and Games Room occupy two further pavilions.
For further details on weddings and honeymoons at Baraka Point Estate, visit barakapoint.com. Alternatively, visit bvitourism.co.uk/tour-operators for details of specialist villa tour operators.
To get married in The BVI, couples only need to be resident for one day prior to the ceremony. The simplest way to get married is to have a Wedding Coordinator to handle the arrangements. From the license and paperwork to the ceremony and honeymoon, the Wedding Coordinator will ensure that everything runs smoothly.
For further details on weddings in the British Virgin Islands as well as details of Wedding Coordinators, accommodation and resorts on the islands, visit bvitourism.co.uk/destination-weddings.