Superyacht? Sir, there's an app for that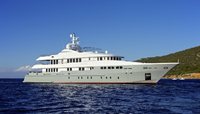 As a discerning UHNWI (ultra-high net worth individual), you'll no doubt love your yachts, but isn't it a pain choosing one?
Well, not to fear. Help is only one 'knot' away, thanks to a nifty smartphone app for today's filthy rich seeking to charter or purchase the ultimate superyacht.
The vessels leave customers wanting for nothing. Fitness can be maintained in an air-conditioned gym, and deckhands can be hired to serve afternoon tea.
The superyachts are packed with the latest marine technology, enabling one to navigate thousands of nautical miles, if necessary, to reach hidden coves and stunning beaches. Guests need not worry about traveling too far from home, though; there's a helicopter sitting on the helipad to fly guests back to shore or bring them aboard for champagne lunches.
Chartering a vessel of this magnitude will set you back a cool half a million pounds for one week, but that's merely pocket money for the new-wave cash-rich elite.
Superyachts have long been the billionaire's ultimate plaything and status symbol . The superyacht Azzam, ('azzam' means 'dedication' in Arabic), is rumoured to be owned by the Saudi royal family. Whoever the purchaser was forked out £400 million for the privilege.
The app, 'Yachting Partners International' (YPI), was created by one of the world's leading yacht brokers. It presents an overview of luxury yachting, describing the locations, the yachts and the process of chartering. It includes features, interviews and an easy-to-understand beginner's guide, together with recommended exclusive holiday destinations, itineraries and photo galleries.
'There is no more bespoke, discreet or rewarding holiday than that enjoyed on board a personally chartered yacht, with the owner's personal crew and chef at your service and some of the most spectacular coastlines, islands and bays just waiting to be explored – many of which are not even accessible by land,' claims Mark Duncan, marketing director for ypi.com. 'Our app gives a glimpse of what newcomers can experience and importantly it shows them how to go about booking their first private yacht charter experience.'
The €100 million superyacht owned by Steve Jobs, the late Apple CEO, was recently impounded over a disputed unpaid bill.
The app is available for download in the Play and App store.