New Kia video app speeds service work approval for customers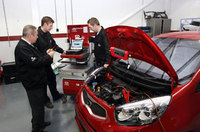 Kia dealers can now send videos of service work required directly to owners thanks to a new service using industry-leading technology. Kia Klear-Vision – powered by CitNOW uses apps to advise customers that urgent or important work is needed. The app sends the video direct from the workshop to the customer. This gives greater power and instant information to Kia owners and allows Kia dealers to further improve their service.
This vehicle health check tool reinforces Kia's family-like care by building trust amongst Kia customers and dealers, and also improves the conversion of identified 'red' and 'amber' maintenance work at Kia service centers. Technicians can film vehicle health checks and send them to the customers via email or SMS, with the videos taking less than 60 seconds to make.
Not only does the solution build trust with Kia customers, it makes it easier and quicker for them to decide on servicing recommendations more often, as they are able to view any issues with the vehicle on the video. This ensures that Kia customers receive a positive dealership experience by bringing the dealers and customers closer together.
Hamish McCowan, After Sales Director, said: "With a rapidly expanding vehicle parc, we were looking for a market leading video based vehicle health check solution to offer our dealer network. With a dedicated and experienced support team on hand to help our dealers deliver an exceptional customer experience, the decision to opt for the CitNOW solution was an easy one."
Gordon Grant, Sales Director at CitNOW, commented: "We're delighted to be working with Kia on the launch of Kia Klear-Vision. Klear-Vision will drive significant benefits for the dealer network and will provide a platform for increasing the levels of trust and transparency across their customer base."