Cars race to Euro 5 with their first Volvo's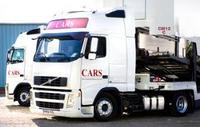 One of the most unusual and highly specialised fleets in the UK has taken delivery of four new Euro 5 compliant Volvo FH-440 4x2 tractor units - part of a total order for six.
CARS, the initials stand for Classic Automotive Relocation Services, store, transport and arrange shipping for some of the most valuable and collectable cars in the world.
The new trucks' Euro 5 compliance is achieved using Volvo's SCR technology and, because of the predominance of Continental work, all feature left-hand drive. AdBlue is readily available for the fleet via a 1,000 litre IBC on CARS' Suffolk site as well as through the Volvo Dealer Network across the UK and Europe.
Specification is high and includes Globetrotter XL cabs, Office Pack and independent air-conditioning units that can be used without running the engine – vital for CARS drivers, who can be away from base for several weeks at a time, working in Continental summertime temperatures of more than 40º C. The trucks venture as far afield as Russia and all areas of Eastern Europe as they collect and deliver cars for clients.
These are the company's first Volvo's and were supplied to the Suffolk-based operator by Volvo Truck and Bus Centre East Anglia. All the trucks are on the Volvo Financial Services Contract Hire programme for a five-year term with R&M carried out by the supplying Dealer's Chedburgh depot.
All the trucks feature Volvo's Dynafleet telematic system, which is primarily used for security with its tracking function. The trailers are also tracked and the Dynafleet package features Geo-Fencing for precise location of the vehicles should they venture outside defined areas.
Much of the company's work involves transporting individual cars or even entire private collections to just about anywhere on the planet the customer requests – door to door. CARS also offer a full customs clearance and temporary vehicle registration service as well as storage in two large, high-security, bonded warehouses owned by the company.
Handling and transporting such precious cargo is a delicate job and customer's cars are carried in a fleet of custom-designed and built, double-deck, fully-enclosed Löhr trailers fitted with hydraulically operated sides and roof – plus a race-car spec tail-lift. It is believed there are only 10 such trailers in Europe.
Continental height restrictions, especially for vehicles transiting the Frejus and Mont Blanc tunnels, mean that the trucks must comply with the 4.0 metre overall height rule. This is aided by the ultra-low coupling height of 950mm and by running on 295/60R tyres. The trucks are plated for 28 tonnes GCW operation.
CARS Director Jay Bullock says that the company chose Volvo and Euro 5 for safety and environmental reasons and the fact that Volvo had Euro 5 compliant engines readily available to order. Presenting a high-quality company image is also vital to the operation, he says. "Not normal is our business! Our customers demand very high quality service and the image of our vehicles is very important."
"The Euro 5 Volvo's are state-of-the-art and we have good personal service from the Dealer. If one of our customers asks us to collect a three million dollar car at a certain time, we have to be there. These trucks could be meeting an Antonov cargo plane at Stansted one day to unload the cars belonging to the competitors returning from the Beijing to Paris rally and delivering a unique, classic car to a collector in Barcelona for a film shoot the next. We need top class trucks with best in the business back-up. That's why we chose Volvo."