Community is invited to contribute to future plans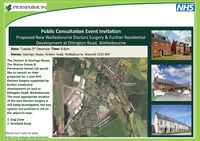 Leading housebuilder Persimmon Homes is demonstrating its commitment to developing healthy communities by inviting the residents of Wellesbourne and Walton to contribute to its future plans in the area.
A public exhibition will enable interested parties to view proposals for a development of a new Wellesbourne Doctors Surgery and a further residential development of 350 new homes at Ettington Road.
Andy Peters, Managing Director at Persimmon Homes South Midlands, said: "We want to give the public an opportunity to air their views on our proposed outline planning application for this location.
"Our vision for the site is a development of 350 new homes comprising of 2, 3 and 4 bedroom properties, including 35% which will be designated as affordable housing to be made available to local people.
"We are working with The Walton Estate on plans to include a state-of-the-art doctors surgery that will offer an extended range of medical services and ample parking. The exact location of the proposed new surgery will also be discussed at the consultation meeting.
Representatives from both the Doctors Surgery and Persimmon Homes South Midlands will present the initial plans at Hastings House, Kineton Road, Wellesbourne, CV35 9NF on Tuesday 9th December from 6.00pm – 9.00pm. For anyone unable to attend the event visual representations and comments forms are also available online after the event at sites.google.com/site/wellesbourneproposals
Andy Peters added: "As a responsible builder, we want to be certain that our outline planning application proposals are brought to the attention of the local community. We always take careful account of comments received; ensuring feedback is filtered through to the next stage of the design process."
"Persimmon Homes South Midlands is committed to improving the employment prospects of the region and we anticipate that the development will provide over 428 full time construction job opportunities and we will be offering apprenticeship schemes for local school leavers.
"We also hope to forge closer links other community groups as part of our work in the area, so welcome feedback on the plans from representatives of these organisations."
It is anticipated that a formal planning application will be submitted to Stratford District Council in January 2015 therefore responses are kindly requested by Friday 5th January.
To find out more, visit persimmonhomes.com.