London commuters benefit from annual Travelcard savings - without having to find cash up-front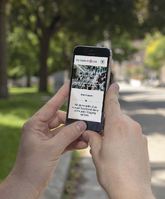 Tackling the costs of travel in London, MyCommute4Less is an innovative new service which enables commuters to benefit from an annual Travelcard without having to find 12 months money up-front. MyCommute4Less, brought to London by Premium Credit, enables commuters to save compared to monthly or weekly Travelcard costs. And with a TFL fare rise of up to 2.5% expected for 1st January 2015, commuters ordering their annual Travelcard through MyCommute4Less to start before the end of 2014 will make even greater savings.
According to recent research, London is the most expensive city to live and work in, not just in Europe but globally. The capital has leapfrogged New York and Hong Kong, with house prices and travel costs undoubtedly playing a part in pushing up the cost of living. With MyCommute4Less, London workers can make their money go further by giving them access to the benefits of an annual Travelcard, without having to find the cash up-front.
The cheapest way to travel in the London zoning network, on tubes and buses, is to pay for an annual Travelcard up-front. It gives 12 months for the cost of 10.4 months. But for many London commuters finding the cost of an annual Travelcard in one lump sum is out of reach.
MyCommute4Less provides an easy to use and fair solution for commuters by financing the cost of an annual Travelcard which is paid for over 10 months – in effect giving them two months of non-payment at the end of the year. Plus the cost is much less than buying 12 monthly Travelcards. In fact, depending on the zones the Travelcard covers, London commuters could save over £220 on their annual travel costs.
"Annual Travelcards can save commuters hundreds of pounds", explained Roger Brown of MyCommute4Less. "They give 52 weeks of tube, rail and bus travel for the equivalent cost of buying just forty weekly Travelcards, and not much more than 10 monthly cards. But it's a lot of cash to find in one go for many commuters. MyCommute4Less lets London workers spread the cost – to make the most of the savings - as well as get access to all the additional benefits that come with an Annual Travelcard, such as discounted rail fares and other travel offers."
Working with thetrainline.com, a commuter's annual Travelcard is loaded onto a new Oyster card when they sign up with MyCommute4Less. The customer makes ten manageable monthly payments. MyCommute4Less charges a Transaction Fee of 5% on the cost of an annual Travelcard (equivalent to an APR of 9.5%) which is more cost-effective than most bank loans. Even with the MyCommute4Less Transaction Fee, commuters will still be saving compared to buying a weekly or monthly Travelcard.
There's also no cancellation charge in respect of the credit if the commuter changes their mind. They can cancel the Travelcard at any time and, as long as the payments have been kept up to date there will usually be nothing more to pay in respect of the credit facility provided by MyCommute4Less.
"MyCommute4Less is a straightforward and transparent initiative which potentially offers London rail, tube and bus users considerable savings over monthly, weekly or daily costs – without having to find the cash up-front", continued Roger Brown. "It also means that commuters can benefit from holding a season ticket – no standing in a queue with the risk of missing their connection. All they have to do is complete our simple application process and, if successful, they can sign an agreement and advise of their bank details on line. It's a simple and transparent process."
For more information, visit mycommute4less.co.uk.