North America vs Europe for Winter 2014-15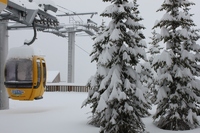 With the 2014-15 ski season now upon us, resorts across North America opened at the weekend for Thanksgiving festivities accompanied by some of the best early season snow conditions of recent years. In contrast to many of the European resorts, there has been some huge snowfalls over the last week in ski resorts across Utah, Colorado and Wyoming, whilst in Canada up to 1m fell in Revelstoke, over 50cm in Lake Louise and over 60cm in Kicking Horse.
So apart from the great early season snow why book North America over Europe this year?
Maximise time. Make the most of precious annual leave and opt for an extended break over the Easter period. By taking 6 days annual leave, you can enjoy a longer and more relaxing 10 night holiday for not much more cost than a 7 night stay. Whether you choose a single resort or opt for a multi-resort Ski Safari, the fantastic spring snow record in North America makes it a great option for Easter.
Quieter slopes. According to the Ski Club of Great Britain 2014 Consumer Research how busy the slopes are is the fourth most important consideration when choosing a ski resort. The lack of crowds in North American ski resorts are a real draw and even during peak holiday times the slopes remain enviably uncrowded in comparison to many of their European counterparts. Immaculately groomed pistes and efficient lift systems add to the attraction.
Getting to know the ski area. Most resorts in North America still offer free "orientation" tours so you can get to know the best of the mountain, enhancing the overall experience, which is something not frequently available in Europe.
Have a nice day! It seems nothing is too much trouble in North America and it is a positive reflection on how important they value their service industry. Fellow skiers and boarders politely line up to get on the ski lifts, the piste maps appear more user-friendly and they even accommodate with sniffle stations for those unwelcome dewdrops!
Ski Safari continues to offer some of the most competitive packages to North America and the expert advice from the team ensures they help you choose the right resort. The advice is clearly well received as according to the Ski Club of Great Britain 2014 Consumer Research, more people recommended Ski Safari than any other ski holiday company in the UK, with respondents awarding the highest NPS (net promoter score) of 66 to Ski Safari.
If you're settled in your comfort zone with favourite European resorts, these suggestions from Ski Safari may help to push you over the Pond for 2014-15.
If you're a fan of Three Valleys, you might want to try Park City……

If you are a Three Valleys regular, why not consider heading to Utah's Park City, with three ski resorts on your doorstep and four more within easy driving distance. Offering the best value accommodation of the three ski areas, Park City is also the central point for all three ski mountains and the Historic Main Street has a fantastic vibe with plenty of bars, restaurants, shops and cafes. With Vail Resorts having taken over Park City Mountain Resort big plans are already afoot for next season with a new lift linking Park City and Canyons, creating the biggest ski area in the USA. Once these resorts are linked this will help push momentum towards the greater plan, known as the One Wasatch project. This plan is to create a huge interconnected ski area in Utah, connecting 7 major resorts and rivalling the huge, linked European ski areas.

How much?

A 7 night holiday doesn't do it justice, bump it up to a 10 night stay at the 3* The Yarrow, with prices starting from £1075 per person on B&B, including two free nights, based on 2 adults sharing. Price includes flights and resort transfers.
If you're a fan of Kitzbühel, you might want to try Aspen Snowmass

The world-famous Tirolean resort of Kitzbühel, with its picturesque old town and incredible skiing owes much of its heritage to its silver mining heyday in the 16th century. Parallels can be immediately drawn with the one of the most attractive resorts in Colorado, Aspen, which prospered in the 18th century thanks to the discovery of silver. The resort now offers some of America's most luxurious accommodation in Aspen town, such as the 5* Hotel Jerome, built at the height of Colorado's silver mining boom and which is celebrating its 125th anniversary this year. The skiing extends over 4 mountains - Aspen Mountain, Aspen Highlands, Buttermilk and Snowmass – and is linked by an incredibly efficient shuttle bus system.

How much?

For stays between 21st March and 5th April, Ski Safari is offering an exclusive buy 5, get 7 on lift passes and hotel rooms. Seven nights at the 5* Hotel Jerome in a Deluxe King Room starts from £1625 per person on B&B, including flights and transfers. A 7 day adult lift pass starts from only £267 per person.
If you're a fan of La Plagne, you might want to try Big White……

The purpose-built ski resort of La Plagne is popular with those looking for guaranteed snow, an extensive and well-connected ski area with easy ski in ski out access. All of this and more can be found in the Canadian resort of Big White. The clue is in the name. With an average of over 25ft of completely natural Okanagan snow, the third biggest ski area in British Columbia and Canada's largest totally ski in ski out ski village. The purpose-built resort centre of Big White is modern and cleverly designed to ensure maximum convenience. For added variety, why not combine Big White with Sun Peaks and Silver Star on the Okanagan Explorer ski safari.

How much?

A 7 night holiday at the 3*+ White Crystal Inn, on room only, starts from £1159 per person, based on 2 adults sharing. Price includes flights and resort transfers. Price based on March departures.
If you're a fan of Livigno, you might want to try Sun Peaks……

The Italian resort of Livigno draws beginner and intermediate skiers year on year because of its confidence building slopes, sound snow record and good value. Over in Canada, Sun Peaks is a great alternative. This season 522 acres of terrain has been added and this expansion means that Sun Peaks is now the second largest ski resort in Canada and thanks to its well-planned trail system it means that all levels of skier can ski down from any lift, making it ideal for mixed-ability groups and families. Sun Peaks also offers the ultimate in ski in ski out convenience, an Alpine-style pedestrianised village and modern slopeside accommodation. Off the slopes there's an abundance of winter activities, including Cat-Trax groomer rides, snowshoe tours, dogsledding, and snowmobiling to name a few.

How much?
A 7 night holiday at the 3*+ Hearthstone Lodge, on room only, starts from £1129 per person, based on 2 adults sharing. Price includes flights and resort transfers. Price based on March departures.

For more information, visit skisafari.com.