Brits flee UK for Christmas on the beach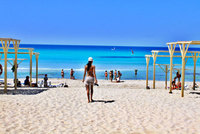 More Brits will be spending Christmas abroad this year compared to last, with Spain attracting the majority of sun seeking Britons, according to research On the Beach, the beach holiday specialists.
Popular destinations
As temperatures in the UK plummet, more of us than ever are heading to sun kissed Spain and its islands, which are the most popular destinations for Brits this Christmas.
The Canary Island of Tenerife is the most popular hot spot for festive getaways this year, with Lanzarote the second most popular. However, Lanzarote is also showing the biggest year on year increase in bookings, up a massive 84% on last year's festive season.
The Red Sea resort of Sharm El Sheikh is the third favourite destination this December, with sales up 67% on the previous year.
Yet another Canary Island, Fuerteventura and the Portuguese Algarve region makes up the top five most popular destinations for Brits this Christmas.
Cheaper than 2013
The research also found that many of the most popular hot spots for Brits are cheaper this Christmas compared to last.
Agadir, Morocco's premier holiday destination is showing the greatest savings with the average cost of a holiday down a whopping 53% on last year.
Even holidays to the number one island of choice - Tenerife - are proving cheaper, down 23%. The average price of a break on the Portuguese garden island of Madeira also costs up to 21% less year on year.
Busy airports
Bookings at On the Beach reveal the 23rd December is the busiest day of travel, as families jet off in time to settle into beach life for Christmas Day.
However, On the Beach predicts airports will still be busier than usual on the 25th with bookings for those leaving on Christmas up 69% on the previous year.
Alistair Daly, Chief Marketing Officer at On the Beach comments: "Our bookings show that this year more Brits than ever before are packing up for Christmas and chasing the sun. Spain and its islands have always been a popular choice for families, couples and friends offering great value holidays, all just a short flight away. Other beach hot spots such as Agadir and Madeira which have experienced a decrease in costs making holidays even more affordable, are set to see an influx in holidaymakers over the next 12 months."
For more information, visit onthebeach.co.uk.