Marley Spoon launches in the UK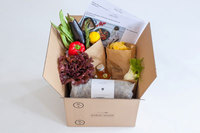 Founded in May 2014, Marley Spoon is a bespoke recipe kit delivery service, bringing fresh, quality ingredients and creative, gourmet cooking back into the kitchen. Inspired by their shared passion for food and their desire to bring back the art of home cooking, Fabian Siegel, co-founder of the global online delivery service Delivery Hero (Hungry House UK), and Till Neatby, who started German chain restaurant, MexAttax, have successfully launched Marley Spoon in Germany and are set to launch in the Netherlands and the UK from early December.
With our hectic lifestyles, it can be difficult to find the time to prepare a quality meal. Rushing from the office to the nearest supermarket, we can wind up buying the same ingredients and eating the same meals week after week. Marley Spoon offers a solution to this all-too-familiar problem. Using the Marley Spoon website, customers can choose from seven unique, exciting and globally-influenced dishes each week, such as: Lamb and sweet potato tagine served with traditional couscous, sesame salmon with ginger-potato mash and stuffed Portobello mushrooms with artichoke-lentil salad. With a variety of meat, fish and vegetarian options available, Marley Spoon has something for everyone.
The Marley Spoon kit, containing all of the market-fresh ingredients, as well as simple step-by-step instructions, is delivered right to your door with no subscription and no strings attached. Each dish is offered in multiples of two and costs £10 per portion. So whether you are trying to impress a date, treating the family to a home cooked meal, or just saving yourself some time, Marley Spoon is the perfect way to add a little affordable luxury to any occasion.
Quality and sustainability are at the core of the Marley Spoon proposition. All ingredients are seasonal and responsibly sourced from a network of trusted suppliers. Marley Spoon pre-portions all of its ingredients to avoid unnecessary food waste, and all packaging is 100% recyclable.
For more information, visit marleyspoon.co.uk.