The Art of Dining launches next pop-up: Gone Camping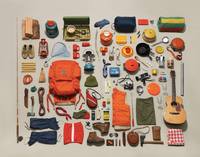 Renowned pop-up collective, The Art of Dining, will stage its latest creation this January 2015*. The experience will combine theatre, food and set design to create an immersive and interactive dining event to chase away the January blues and prove that the fun doesn't stop at Christmas.
'Gone Camping' will see diners invited to lace up their walking boots, shake out their sleeping bags, and head to The Pickle Factory, near Bethnal Green. There they will find themselves on an urban camping expedition with a difference! Set designer Alice Hodge will transform the bare white walls of the space into a campsite in the English countryside. There will be billowing canvas, flickering lamplight, nature all around, the seagull's cry – everything you might expect from a camping trip apart from the drizzle and mud.
There campers can release their inner Famous Five, boiling up water in a billy can, cooking and sharing food, and whittling sticks for toasting marshmallows. Those familiar with The Art of Dining's signature interactive elements will not be disappointed, with mini-tutorials in camp craft, ghost stories galore, and a camp-fire sing-song to warm their cockles.
Five courses designed by chef Ellen Parr (Moro) will encapsulate the fun, experimental, and sometimes charcoal-y flavours of campsite cooking. In one evening, diners will experience a whole weekend of outdoors eating. Dishes include a posh pot-noodle (a version of Vietnamese pho); a Thai twist on the campfire barbecue; and a Moroccan breakfast dish with eggs and flat bread.
Gone Camping: the perfect Christmas gift for anyone awaiting the return of the long, light evenings of summer.
Tickets
Dining ticket: £55
7.30pm -11.00pm
Includes five-course dinner, welcome drink and entertainment
Tickets on sale at theartofdining.co.uk
*Full list of dates in January 2015:
Wed 7th – Sun 11th
Tue 13th – Sun 18th
Tue 20th – Thur 22nd
Address:
The Pickle Factory
13 - 14 The Oval
London
E2 9DU
The Art of Dining
Established in 2010, The Art of Dining have rapidly grown to become one of the leading pop-up collectives in London, collaborating with everyone from the V&A, the National Trust and Jose Cuervo Tequila. The concept is simple: take an unusual setting, use set design to create a fully immersive backdrop, serve a menu that is perfectly tailored to the surroundings and throw in some theatrical surprises to create an all-encompassing themed dining experience.
theartofdining.co.uk