Escape to India... hassle free!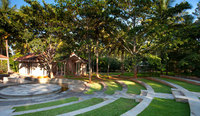 It's now easier than ever to escape to the birthplace of Yoga and Ayurveda with the recently launched Visa on Arrival. No more lengthy queues or complicated forms to fill out..Simply book your ticket and go!
Wellness tourism in India is on the increase and with more and more travellers wanting to enjoy the authentic Indian experience, the Visa on Arrival facility which is available to more than 43 countries worldwide really couldn't have come at a better time.
This new easy to use facility is available in 9 international Indian airports including Bengalaru airport located a short 50 minute drive away from Shreyas retreat. Rated as one of the finest Yoga retreats in the world, Shreyas has a clientele that spans diverse countries, with USA, Russia, Germany and Australia amongst the largest group of visitors, who now can avail of this facility making the gateway to India even more accessible to the global traveller.
For more information on the retreats available at Shreyas visit shreyasresort.com
About Shreyas:
Shreyas Retreat is dedicated to promoting the authentic spiritual tradition of Yoga in a holistic manner and is recognized as one of the finest Yoga retreats in the world. What makes Shreyas unique is that, whilst Yoga is taught in traditional ashram style (daily yoga, meditation sessions, chanting classes, a strict vegetarian, no alcohol policy and community service), guests live in a luxurious environment normally associated with a star hotel. Shreyas also offers traditional Ayurveda therapies, a wide range of massage and indulgent beauty.