Catch the Great Northern Hotel ski train package this winter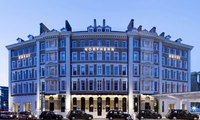 This winter, the Great Northern Hotel has created an exclusive ski train package for an unforgettable start to your ski trip. The package is available now until 11th April 2015 and prices start from £180 per person.
Located just 25 metres from the Eurostar terminus, the Great Northern Hotel ski train package offers unrivalled value to the discerning ski train traveller. The package comprises an overnight stay in one of the hotels exquisitely designed rooms and a la carte breakfast in the stunning 90-cover restaurant, Plum + Spilt Milk, overlooking the King's Cross piazza. In addition to breakfast, the package also includes a takeaway lunch from KIOSK, on the western concourse of Kings Cross station which serves freshly hand-carved hot roast meat sandwiches, made with delicious artisan bread and a bespoke GNH 'chalet boy' service offering help with boot and ski bag transport to St Pancras International.
For those with time to spare, the ski train package also offers the chance to get your skis waxed ahead of departure and to purchase a half bottle of Billecart-Salmon Champagne to make your journey that little bit more special.
The package starts from £180 per person and is available until 11th April 2015. All reservations can be made via the website gnhlondon.com.
The Great Northern Hotel is one of London's finest luxury boutique hotels, with an extraordinary location, situated literally within the new Western Concourse of King's Cross and just 25 metres from the Eurostar terminus at St Pancras International. A guest's choice of room is likely to be dictated by their mood, as each have King or Queen sized beds, en suite bathrooms or shower rooms and are specified to the highest standards. The Cubitt rooms feature high ceilings and large twin sash windows which fill the rooms with an abundance of natural light. The Couchette rooms are fun and charming and are their innovative interpretation of a traditional railway carriage car sleeper. The Wainscot rooms are on the top floor of the hotel, have high mansard style ceilings and are lined with Black American Walnut Wainscot panelling, which, along with deep aubergine paint, combines to create a seductive ambiance. All bedrooms feature complimentary uber-fast 500Mb Wi-fi and an in-room entertainment package, at no charge, comprising 70 films, 6 playlists, 20 audio books & 96 TV channels including Sky. On each floor guests have access to the complimentary Pantry that give a sense of being "home from home".
Plum + Spilt Milk, an exquisitely designed neighbourhood restaurant is located one flight up the hotel's original grand staircase. The menus, designed by Chef Director Mark Sargeant and overseen by Executive Chef Mike Denman, focus on simple British dishes using seasonal and carefully sourced ingredients cooked beautifully. The restaurant's name originates from the lively colours of the dining cars pulled by the Flying Scotsman. Three metre high floor to ceiling sash windows allow light to flood into the interior, which features 120 hand blown glass pendants and banquette based furniture, handmade by Boffi of Milan to a bespoke design.
GNH Bar was designed with the aim of being one of Europe's most glamorous railway bars. It has prime location opening directly into King's Cross station and being just 25 metres from the Eurostar terminus at St Pancras International. It has etched mirror ceilings, an organically shaped pewter and marble bar and two simply massive crystal chandeliers. The effect is to create a stunning, high class bar which is open from breakfast though to 1am each day. GNH Bar also serves a tantalising menu by from Mark Sargeant.