Canon's new Legria HF R Series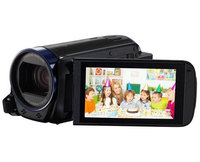 Canon has unveiled three new camcorders in the Legria HF R Series – the Legria HF R68, Legria HF R66 and Legria HF R606. Perfect for capturing and sharing special family moments in stunning Full HD quality, the new camcorders make it easy for everyone to shoot creative movies to be enjoyed time and time again.
Capture moments you cherish
Combining Canon's Full HD video system with a high-quality DIGIC DV4 processor, the new camcorders ensure you capture your favourite family moments – from holidays, to parties or school events – in outstanding detail. Featuring a 32x optical zoom lens with a 57x advanced zoom, the models provide the freedom to shoot a diverse range of scenes and subjects both near and far.
You'll never lose track of your family when using the powerful zoom, thanks to Zoom Framing Assist. Simply hold the dedicated search button and the camcorder automatically pans out to help you relocate your subject, before zooming in again. You're guaranteed each shot will always be crystal clear, with Intelligent IS automatically reducing camera shake, giving you the confidence to zoom in on the action as it happens.
To help you fit more into every shot – such as big groups at family gatherings, or sweeping vistas on holiday – the Legria HF R68 includes a new Wide Attachment lens which can be quickly mounted on the camera to shorten the focal length to 26.9mm, widening the camcorder's overall view.
Fun for the whole family
Adding a creative twist to movies is quick and simple thanks to a range of new and easy-to-use recording modes. With slow motion recording you can cut speeds by 1/2x – ideal for capturing and reliving every detail of a child's first goal – or speed up events by up to 1200x, great for a quick recap of holiday sunsets, or adventurous drives.
To help you easily document precious family moments, videos shot in Baby Mode are automatically saved to a dedicated album, allowing seamless playback of your footage, ready to share with loved ones. To make sure your memories are safe against accidental deletion, the file lock function can disable the ability to delete or edit files, so your favourite moments can be viewed by children without risk.
Share the memories you've recorded
Once you've captured all the day's events they can easily be shared to other devices via NFC compatibility, including smartphones, tablets and Canon's newly announced Connect Station CS100. It's also easy to upload content to social sites and cloud services, for instant sharing with people around the world. Additionally, the Legria HF R606 is compatible with FlashAir SD cards – allowing you to share, store and play your footage on your smartphone or tablet, without a dedicated internet connection.