Time to charge!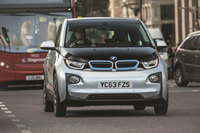 Sales of electric cars are booming. Figures from the Society of Motor Manufacturers and Traders show registrations have more than doubled in 2014 compared with last year. It's not just pure electric vehicles which are becoming more popular. Plug-in hybrids, which take electricity from a charging station but also have an internal combustion engine, are also finding more and more buyers. There's still a long way to go before pure electric car sales start to rival petrol and diesel vehicles, though. Even with their startling growth this year, electric vehicles and plug-in hybrids account for around one car in every 220 sold. So, is now the time to switch from petrol to plug-in power? Or is the internal combustion engine still king? To find out, we tested three electric cars for a week to see if they would find a place in our lives. The diaries of our three reviewers are below:
BMW i3 Range Extender
Price: £28,830
Driven by: David Motton, Good Motoring road test editor
I've been itching to drive the BMW i3. The version which has just been parked on my drive is the Range Extender, which has a small petrol engine to act as a generator if the battery runs flat. I don't need to go anywhere today but can't resist taking the i3 out for a quick spin. It takes very little throttle to get the car moving, and the car slows very quickly as soon as I lift off. Just as well the brake lights come on before the driver touches the brake pedal.
Back home, I charge the car from a domestic socket, which takes eight to ten hours to charge fully. Anyone buying an i3 would be crazy not to have a dedicated charging point installed at home. A BMW i Wallbox (which costs £315) should charge a flat battery to 80% full in three hours. The cost of a charge varies depending on your electricity supplier and tariff but TheChargingPoint.com estimates a full charge costs between 96p and £3.40. Compare that with the cost of a tank of petrol, and it's easy to see why electric car sales are on the rise.
The i3 is a similar size to most superminis, so luggage space isn't huge. There are 260 litres with the back seats up, and 1100 litres with them folded. With the seats down, I can just about fit in a dismantled bicycle, which I need to drop off in Kingston, 20 miles from my home in Surrey. With the battery almost fully charged, the car shows an electric-powered range of 67 miles when I set off. Switching to 'Eco Pro' mode, which makes the throttle less responsive and alters the air conditioning settings to preserve power, sees that climb to 71 miles. I avoid main roads and drive cross-country into London.
The i3 proves that electric cars can be fun to drive, with precise steering, agile handling and a surprising turn of speed. After a 40-mile round trip the car has a remaining range of 39 miles.
When BMW collects the i3, I conclude by thinking that an electric car could fit in with my life. With two kids, though, I could do with more space than the i3 offers. If BMW builds the long-rumoured i5 I'd be sorely tempted...
Vauxhall Ampera
Price: from £28,750
Driven by: GEM chief executive, David Williams
The stunning looking four-door, four-seat saloon, arrives at the office to admiring nods of approval from all concerned. With sleek lines, gleaming metallic paint, alloy wheels and leather upholstery, this is a top of the range vehicle that completely dispels the mental image that many electric cars are small and unattractive.
The Ampera has a suggested range of up to 50 miles on a full charge from its battery but this range is extended to 360 miles by the use of a 1.4 litre petrol engine that generates electricity rather than powering the wheels. The switch from stored power to generated power happens automatically and almost silently. Official figures show this combination delivers an average of 235mpg and carbon dioxide emissions of just 27g/km. The unnerving silence of the power source is soon shattered by my exclamation of 'wow!', as the car's performance gives a noticeable shove in the back. The Ampera offers amazing performance, with 0-60mph in just 8.7 seconds and a top speed of 100mph..
However, my desire to undertake most of my driving using mains stored electricity is proving difficult. The charging point on the vehicle is a small flap on the front wing into which a cable is plugged from a standard power socket. But a full charge from my standard kitchen socket takes around eight hours (installing a 16 amp British Gas home charger is said to reduce this to four hours). To my disappointment the full charge indicator shows only a range of 37 miles. Before I reach the end of my lane just 40 yards away the reading shows 35 miles and as I arrive at my office just 14 miles away the available charge was showing just 12 miles remaining.
Next day we head round the M25 for a BBC show recording. I contact the studio and book a parking place with a charging point. So at least 30 miles there and 30 miles back from the 150-mile journey will be under environmentally friendly power. Just ask at the gate, I'm told. My passengers are relaxed after a quiet and smooth journey, and we arrive at the studio in style. "Sorry mate, we know nothing about a parking space with charging point," says the car park attendant. So unfortunately it's the petrol engine of the Ampera that again takes all but 30 miles of the strain...
Nissan Leaf
Price: from £21,490
Driven by: Good Motoring editor James Luckhurst
I'm excited at the prospect of a week's almost free driving of the Nissan Leaf. Better still, at first sight it looks just like any other car, with plenty of space for self, wife, children and shopping. Off to school pick-up via the supermarket. I grumble for 10 minutes because I expect to jump in and zoom away without reading any instructions. Calming down, I realise I'm foolish – and shortly afterwards, I am well and truly on my way. Excellent acceleration; the torque from the electric motor is on hand from a standing start, so it feels remarkable as we whizz away noiselessly.
We didn't charge the car overnight, but the range indicator tells us there's plenty of power left. Nissan's figures give a range of 124 miles on a single charge, which was enough for own needs, but would probably rule the car out for a lot of commuters and longer-distance drivers.
There's time at the weekend for a family drive. Setting aside the novelty factor, we focus instead on what sort of car the Leaf actually is. The easy answer is that it's pretty similar to most medium-sized cars, electric or not. It feels smooth and comfortable on the local journeys we make, and of course very quiet. The interior space is good, with a quality finish and good visibility all round.
Finding suitable charging points would become part of my motoring life if I drove a car like this. According to Zap-Map.com there are now more than 7000 charge points in the UK at almost 3000 locations.
We reflect on the Leaf's performance during our testing week. Yes, it feels fun, different (but not too different) and spacious. It's also amazingly good value to run if you can overcome the initially high purchase cost. Our requirements for a car are largely for fairly short journeys of 30 miles or less, which the Leaf could manage with ease. But we do venture further afield, and the Leaf, with its current range, would simply not cut it for our needs.
[PANEL] Could an electric car be right for me?
YES I'm a company car driver, and so will pay no benefit-in-kind tax to run a pure electric vehicle (and will be taxed on just 5% of the car's P11d value if the car emits 1-50g/km of CO2 in the next tax year).
YES Most of my regular journeys are within the all-electric range of my car, so I won't be needing to rely on a fossil back-up tank.
YES My household runs more than one car, so I don't need to rely on the electric vehicle for long journeys.
NO I often need to drive further than an electric car can travel on a single charge.
NO The price of an electric vehicle is off-putting.
NO There are no electric charge points at my place of work or near any of my regular destinations.
NO I rely on one car for all my journeys.
NO I don't have off-road parking where I can install a domestic charging point.