Top ski boutique hotels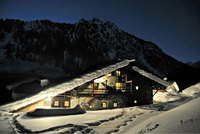 If you're looking to hit the slopes this winter but don't want to stay in a large hotel or chalet then check out Ski Solutions' top five boutique hotels which offer stylish décor, great service and facilities:
For the Ultimate Rustic-Chic Experience: Hotellerie de Mascognaz, Champoluc, Italy
Situated high above the resort of Champoluc, tucked away in the mountains, the rest of the world seems so far away. Accessible by skidoo, rides up and down the mountain are simply breathtaking.The resort comprises several restored farmhouses which offer the ultimate rustic-chic experience. There is a fantastic spa with an indoor pool, sauna and steam room and the roomsfeature exposed wooden beams androaring log fires.
Price: £1,060pp for seven nights including scheduled flights, accommodation, half-board catering and private transfer. Departs 6th December 2014.Prices based on per person with two sharing a standard room.
For a State of the Art Wellness Centre: Omnia, Zermatt, Switzerland
Imagine a traditional mountain lodge with a contemporary twist.Located in the very heart of Zermatt, perched 45m high on a rock above the town, the beautiful south facing sun terrace and restaurant offers amazing views of the Matterhorn. The wellness centre is state of the art with an in/outdoor swimming pool and whirlpool surrounded by enormous glass windows to enjoy the magnificent views. The typical idea of a mountain lodge has been reinvented in architecture, design, materials and craftsmanship to reflect the modern alternative.
For the Perfect Blend of Alpine Charm, Comfort and Efficiency: Valluga Hotel, St Anton, Austria
Originally built in 1952, this hotel has been lovingly restored to its original charm with an exciting modern twist. Its impressive facilities include a spa with a selection of beauty treatments, massages, four different saunas and a well-equipped techno gym, this hotel is a perfect place to spoil yourself after a day on the slopes. The rooms are designed to be spacious but cosy and the vast comfortable lounge area is ideal for chilling out to play games, chat or sit back, relax and sip an after-ski Glühwein in front of the fire.
Price: £1,295pp for seven nights including scheduled flights, accommodation, Bed & Breakfast catering, private transfer. Departs 3rd January 2015.Prices based on per person with two sharing a standard room. The Valluga Hotel is also available for 4 night short breaks from £795pp.
For Luxurious Self-Contained Spacious Suites: Summit Boutique Hotel, Whistler, Canada
Relax and rejuvenate with all the comforts of home. Each self-contained spacious suite comes complete withkitchenettes, fireplaces and balconies so you can chill out after a hard day on the slopes and enjoy the view. Beautifully decorated with unique features such as granite countertops, custom designed cherry wood furnishings, custom tiling and original artwork. Facilities include an outdoor heated pool, hot tub and a spa and sauna to help sooth any aches and pains.
Price: £1,195pp for seven nights including scheduled flights, room only accommodation and shared transfers. Departs 10th January 2015.Prices based on per person with two sharing a standard room.
For Five Star Luxury and Fantastic Italian Food: Nira Montana, La Thuile, Italy
Situated in the heart of Europe's highest mountains, with Mont Blanc as a towering backdrop, this resort is in the north-western part of the Aosta Valley, near the French boarder. You can get back to nature exploring the 160km of skiing spread across Italy and France as well as snowboarding, trekking, rafting and fishing or relax in pure opulence in the Spa with a range of bespoke treatments using only the best natural products Enjoy the finest Italian cuisine from the a la carte service and signature cocktails inspired by the contrast between natural mountain area and the modernity of the hotel. The resort is perfect for all ages and abilities as it has a variety of different slopes for varying skill levels.
For more information, visit skisolutions.com.