Housebuilder creates a buzz with new partnership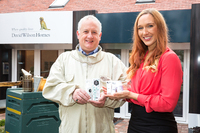 Leading housebuilder David Wilson Homes has joined forces with British skincare company Bee Good to highlight its support of, and the importance of bees.
Both David Wilson Homes and Bee Good are active supporters of our British bees and will be working together to encourage more people to become bee-friendly and promote the next generation of beekeepers.
David Wilson Homes already ensures all of its gardens and open spaces are planted with bee-friendly flowers, trees and bushes and now skincare products from Bee Good will be featured in showhomes throughout the south west and South Wales.
Bee Good produces a range of award-winning natural skincare products using the precious by-products of Britain's beehives; British wildflower honey, propolis and beeswax. Launched in April 2014, Bee Good's products are now stocked in 97 Waitrose stores and available online at beegood.co.uk and urbanoutfitters.com.
David Wilson Homes said the company was delighted to be taking a bigger role in the efforts to encourage more people to become bee-friendly. "People just seem to love bees and support a wide range of initiatives to help them thrive,'' said a spokesperson. "Bee Good produces an amazing range of products and we're delighted to be able to showcase just some of these in our showhomes.''
Bee Good founder Simon Cavill has been a beekeeper for more than 10 years and as an active member of the British Beekeepers Association he is also involved in teaching youngsters about beekeeping.
"All types of bees in the UK have been in steep decline for many years, mainly due to the excessive use of pesticides and the removal of habitat such as hedgerows and wild flower meadows. By supporting British bees through the work Bee Good does and through initiatives such as this one with David Wilson Homes, we are ultimately supporting the UK environment as a whole as well as ensuring that our food supply of native fruits and vegetables remains intact."