Iceland takes another starring role in hotly anticipated TV drama Fortitude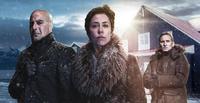 Iceland will join an award winning cast including Michael Gambon (Harry Potter, The King's Speech), Stanley Tucci (The Lovely Bones, The Hunger Games) and Christopher Eccleston (Thor: The Dark World, Lucan) in Sky Atlantic's most ambitious drama to date, Fortitude.
Fortitude, which is centered on a mysterious death in the Arctic Circle, is filmed, in part, in East Iceland and will join a distinguished list of films and TV series including recent blockbusters Interstellar (2014), Noah (2013), The Secret Life of Walter Mitty (2013), Thor 2: The Dark World (2013), Oblivion (2013) and Emmy nominated TV series Game Of Thrones, who can call the land of fire and ice their home.
When deciding on a location for the series, Patrick Spence, executive producer, knew there was only one contender; "Only in Iceland, are you allowed to get so close to nature and the glaciers, which means you can get amazing material shot within relatively easy access, providing that you're prepared to travel." Patrick joins a number of celebrated producers and directors from all over the world who have been attracted by Iceland's extraordinary glaciers, black beaches, geysers, hot springs, lava fields and variety of locations and chose it specifically for the savage beauty of it's Arctic landscape.
The Fortitude film crew took over the town of Reyðarfjörður for several weeks between January and June 2014, using an old fish factory as their base. Einar Hansen Tomasson, film commissioner, Film In Iceland, said "Productions likeFortitude can totally transform a small town in Iceland for a number of months. Over half of the town took part in the series in one way or another, whether it was starring as an extra or working as one of the production crew.If the local community wasn't working alongside them, then they were bumping into the cast in the town swimming pool!"
At 103,000 square foot, Iceland is one of the most diverse filming locations in the world. Moderate temperatures and its geographical location mean that Iceland is the ultimate choice for filmmakers, with summer offering some of the longest daylight hours on the planet, a staggering 21 hours a day between mid May and mid August, providing the perfect location for length shooting days. In winter, the average number of daylight hours is five hours, which offers the perfect mix of prolonged twilight and atmospheric conditions.
Matthew Bird, producer, commented on his filming experience; "We arrived at a location. Well I've never seen anything like it, black sand, rocks of ice, thousands of years old rolling into the sea and then the seas forces them back onto the beach so you're surrounded by massive, massive blocks of ice that are blue inside and different colours." Other cast members including Michael Gambon and Richard Dormer, who play Henry Tyson and Sheriff Dan Anderssen in the series, called the landscape 'astonishing' and 'extraordinary'.
Iceland has become one of the world's highest-profile filming locations due to its easy access, unique volcanic landscapes and generous filming incentive programme.
Fortitude will transmit exclusively on Sky Atlantic from 29 January 2015.