Lyle's Golden Syrup treats Londoners to free bowl of porridge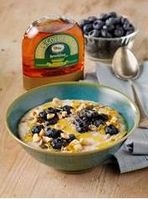 To brighten up the morning commute, Lyle's Golden Syrup will be giving Londoners a delicious, free breakfast at London Victoria station.
It has been proven that starting the day with a good breakfast can make you feel happier, healthier and even live longer, yet not all of us are getting our morning fuel.
To kick start your day with a smile, Lyle's Golden Syrup will be supplying city dwellers with free servings of freshly made hot porridge, topped with a generous helping of the much loved Lyle's Golden Syrup.
Head to London Victoria on Wednesday 14th January – it is a breakfast which is guaranteed to spread smiles and set you up for the day – make sure you don't miss out.
When?
Wednesday 14th January. 7:00am – 12:00pm.
Where?
London Victoria Station
What
Members of the public will be treated to a free pot of hot porridge, topped with Lyle's Golden Syrup for their morning breakfast meal