London Super Comic Convention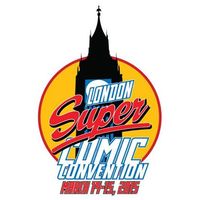 London Super Comic Convention, the UK's largest and most exciting comic event, confirms a host of top comic artists and cosplayers for the 2015 bill, including Ed McGuinness, Dexter Vines and David Mack. The new additions join some of the industry's biggest names, such as world-renowned comic artist Neal Adams (Batman, Superman, Green Lantern), John Romita, Jr, co-creator of Kick Ass and illustrative mastermind that has worked on practically every character in the Marvel Comics back-catalogue, Dave Gibbons, the UK's first Comics Laureate and co-creator of The Watchmen, and Charlie Adlard, long term artist on The Walking Dead. L.S.C.C takes place on 14&15 March 2015 at London's Excel Centre.
The London Super Comic Convention returns for a fourth year in March 2015 and is THE must-attend event for any comic book fan. More than 20,000 comic fans will storm the gates of the Excel Centre donning eye-catching costumes from some of the world's most loved super heroes and characters. Featuring the best selection of creators, publishers, back-issue dealers, retailers and costumers, L.S.C.C truly is the ultimate comic event this side of the Atlantic.
Joining the 2015 line-up are some of the most revered artists and illustrators in the business. Illustration extraordinaire David Mack, the creator, artist and writer behind Kabuki. Ed McGuinness and Dexter Vines, the creative team for high profile series with Marvel and DC (Superman/Batman, Hulk), Yildiray Cinar, the artist from DC Comic's Teen Titans and Marvel's Superior Iron Man, Justice League United artist Neil Edwards, Chris Ward, London-based illustrator, comic artist and writer, and regular cover artist at Marvel, are all guests on the bill. They're joined by Sabine Rich (Ancient Dreams, Southern Nightgown), Rahsan Ekedal (Think Tank, Echoes), Victor Santos (The Mice Templar, Godzilla: Kingdom of Monsters) and J.K. Woodward (X-Men Origins: Beast, Star Trek).
Leading the way with some of the most exciting and colourful costumes are award wining, French cosplayers, Annshella and Nikita, who won last year's London Super Costume Championship. The duo will be displaying some of their incredible handmade costumes at the event, which have gained worldwide acclaim.
The 2015 L.S.C.C. welcomes the return of the London Super Costume Championship, a competition open to all attendees and the biggest independent prize in Europe. Yaya Han, star of the American series of Heroes of Cosplay, is on this year's judges panel. Comic fans must attend in their most impressive costume to be in a chance with winning the title and a trip to Dragon Con in Atlanta.
Gary Morris, Chief Press Officer at L.S.C.C, said: "2015 is set to be the biggest and best year yet for the London Super Comic Convention. We can't wait to welcome back comic fans for what will be two jam-packed days of comic heaven with lots of surprises over the weekend. We have many of the biggest names in the industry under one roof. If you're a comic fan, you simply must be there!"
More line-up announcements will follow in the coming weeks. Tickets for the two-day event start from just £18.50 and are available at londonsupercomicconvention.com.