Caterham continues US expansion with exhibit at Barrett-Jackson Auction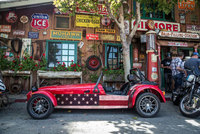 British sportscar maker, Caterham Cars, is attending the renowned Barrett-Jackson car auction in Scottsdale, Arizona. Together with its American importer Superformance, the car company will be exhibiting its range of models during the eight-day event (10-18th January).
With continual sales growth and increasing demand for the iconic Seven after its official USA launch in 2014, Caterham joins the spectacular exhibition at the prestigious auctions of vintage and modern cars. Caterham will display a line-up of three models, including the Seven 280, Seven 480 and Seven 620R.
The auction company Barrett-Jackson specializes in the auction of classic and antique cars, and runs events in several locations across the USA, including Scottsdale. In 2014, the Barrett-Jackson auction set a new visitor record with 300,000 attendees*. This year, the popular event opens its doors to car enthusiasts for the 44th time, and the event, which runs from 10-18 January, is anticipated to attract even more visitors.
Caterham Cars has well-established race series in the UK, France and Colombia, and now the company aspires to expand its motorsport racing to America. The high performance car company will be showcasing its entire range of cars including its fastest production roadcar, the exceptional 620R.
Caterham Cars' Chief Commercial Officer, David Ridley said: "Since launching Caterham Cars in the USA last year, America has become a key growth export market. We hope to show Barrett-Jackson's car enthusiasts what Caterham Cars is all about; charming, British, high performance sportscars."
Visit Caterham Cars on stand 501 & 502.
For more information about Caterham Cars visit CaterhamCars.com