Caterham expands UK dealer network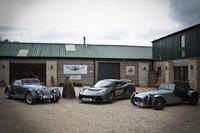 Caterham Cars has appointed two new UK dealers - one in the north and one in the south – as it continues to expand its network on home soil.
Oakmere Motor Group in Cheshire and Williams Automobiles near Bristol have been signed up by the iconic brand to sell its full range of lightweight sportscars, with demonstrator cars already in place at both dealerships.
Both businesses are already well-versed in the selling, servicing and maintenance of used Caterham Sevens but will now stock the recently-extended range of new cars, from Seven 160 to Seven 620R.
Caterham has steadily been growing its sales network both in the UK and internationally in the last few years. More UK dealers are expected to be added in the coming months.
Caterham's Chief Commercial Officer, David Ridley, said: "Last year was a record year for Caterham in terms of export sales as demand increased for our products. But, while we are intent on growing our business globally, we have not forgotten our roots and the expansion of the UK network is a reflection of the importance we place on our customers here at home."
Oakmere Motor Group is a family-owned and run business based in Northwich, near Oulton Park race track. For several years, it was one of the largest TVR dealerships in the country and has an excellent understanding of hand-built British sportscars.
Managing director, Jonathan Jarratt, said: "I am passionate about Caterham, having personally owned a number of them over the years and I know our staff share my passion.
"We have sold and maintained many Caterhams over the years and are therefore no strangers to keeping them in tip top shape. We are planning a launch event very soon but, in the meantime, we would love to see as many Caterham owners and enthusiasts at our dealership as possible and would be delighted to give them the guided tour; the kettle is always on."
Williams Automobiles, based in Chipping Sodbury near Bristol, is one of the UK's oldest Lotus and Morgan dealerships, having been established by the Williams family in 1911. Like Oakmere, the business is well-versed in servicing and dealing in second-hand Sevens and is heavily involved in domestic motorsport activities.
Business owner and dealer principal, Henry Williams, said: "Caterham has always been a brand I have been interested in. It has an exciting product line-up and there is nothing really close to it elsewhere in the market."
For more information about Caterham Cars, visit caterham.com.
For more information about Oakmere Motor Group or Williams Automobiles, visit oakmeremotorgroup.co.uk or williamsautomobiles.com.