TV star Richard Madeley to wield the gavel at Polperro fund-raising auction!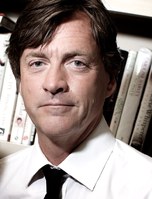 TV star Richard Madeley is to wield the gavel at the Polperro Fund-Raising Auction on Saturday 21 February at the Royal British Legion in Polperro. The auction is being held to raise funds for the annual Polperro Festival, a nine day celebration of arts, music and entertainment which will take place from 20 – 28 June 2015.
Richard Madeley and his wife, Judy Finnegan are keen advocates of Polperro and have a second property in the neighbouring hamlet of Talland Bay. Richard has also kindly donated one of the top "lots" - lunch at the Talland Bay Hotel with him as host for a party of three people on Sunday 22 February. At the auction he will also be revealing the winners of the short story writing competition held during the 2014 Festival.
Other 'lots' to be auctioned include 2 week's accommodation in a private villa with a pool in Florida, a short break staying in a luxury holiday cottage in Polperro, various meals at local pubs and restaurants, 5 dozen scallops, tickets to the Lost Gardens of Heligan, a year's gym membership at the Polperro Gym and gardening services.
Tanya Aspinwall, Festival Chairperson, stated "We're delighted that Richard is to be our auctioneer as hopefully his presence will encourage lots of people to turn up and bid, especially for the chance to have lunch with him! We're keen to raise as much money as we can as the more we raise, the better entertainment we can lay on for the enjoyment of others during our infamous Festival".
Anyone interested in donating a lot should email details to Tanya Aspinwall along with the approximate value to tanya[at]marketingaloud.co.uk. A catalogue of the lots will be available to download from polperrofestival.co.uk nearer to the auction.
To find out more information about Polperro, please visit polperro.org and lovepolperro.com. For more information about the Festival please visit polperrofestival.co.uk.