Milltek reports 'outstanding' Autosport appearance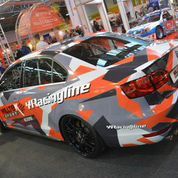 Fresh from its appearance at the Autosport International show at the NEC, exhaust manufacturer Milltek was keen to report an outstanding four days of exhibiting and trading.
The firm has been a stalwart at the show, racking up some 16 years of consecutive appearances since it first exhibited there, but even with that breadth of experience behind it, the 2015 show was to break all records in terms of show-goers onto the stand – and sales made, through retail partner, Demon Tweeks.
The show cars may have helped of course! Present on the stand were Milltek's KPM-prepared track-spec 4WD Jetta, as well as what seemed to be the car of the show for many guests; the company's immaculately prepared silver 'Campaign' VW Golf GTI. The subject of a recent full restoration, Milltek MD Steve Pound was having to field as many sales enquiries on this desirable icon as he was on his company's new 'Classic' exhaust systems.
Using a smart display area and showcasing its latest brochure, Milltek used its central positioning to great effect, seeing literally thousands of show-goers over the 4 days of the show, as well as racking up tens of thousands of pounds worth of retail sales, to a wide variety of enthusiasts and tuners.
The company also had its extensive range of fully FIA-approved HJS sports catalysts at Autosport, which offer full blue-book legality and eligibility where appropriate. A motorsport essential, these components have been proven in all almost every genre of top-level competition.

An additional innovation on the Milltek stand was also the latest 'ValveSonic' systems for selected Audi models. Able to electronically switch between different acoustic settings, these systems offer a choice for the discerning enthusiast looking to walk a fine line between refinement, enhancement and entertainment.
Motorsport was obviously a hot topic for Milltek at ASI, and whilst there, the Motorsport team formally announced the continuation of its association with Kent-based BTCC and GT preparation outfit, Motorbase, in addition to its ongoing title sponsor commitment to the popular and successful Milltek Sport Volkswagen Racing Cup.
Commenting on the firm's 2015 attendance, managing director Steve Pound said. "2015 has exceeded all of our expectations, both in terms of guest numbers and sales figures. The GTI was very well received, which bodes well for our forthcoming 'Milltek Classic' range, and it's been a great way of catching up with racers, tuners, manufacturers and end-users to help us focus on what they really want from our R&D and product teams going forward. I'd like to thank my team for all of their hard work in the run up to, and duration of, the show, as well as everyone who took the time to come and see us."
For more details on Milltek products, visit millteksport.com.