Forge Motorsport one-way brake valve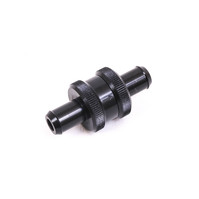 The latest perfectly engineered solution from the alloy artisans at Forge Motorsport is CNC-machined one-way valve to improve the safety and braking performance of forced induction cars.
This all-new one-way valve has been designed specifically for vehicles that have either supercharger or turbo conversions, with 13mm fittings. It is to be fitted in line between the manifold and brake servo to prevent positive boost pressure entering the brake servo. The brass billet piston and the aluminium billet body means it can withstand over 43 pounds per square inch of pressure, and has been tested extensively by Forge's R&D division on both road and track.
These valves take only minutes to fit, but will protect the braking system, ensuring driver safety. By preventing positive boost from entering the servo, the brakes will always achieve their optimum efficiency, and also, the brake servo will not be damaged from excessive pressure.
Each valve body is precision machined from aerospace grade aluminium billet, and is available either in natural polished finish, or a hard-wearing black anodised coating.
Priced at just £28.68 + VAT (£34.42 including VAT) these valves are an essential safety upgrade for any forced induction car.
For more details on this product, or to order, visit forgemotorsport.co.uk.
US customers should visit forgemotorsport.com.