Bamboo Travel launches Tibet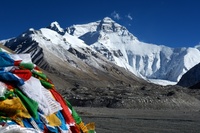 Asia travel specialist Bamboo Travel has launched a programme to Tibet with two 18-day tours which cover many of the highlights of the Tibetan Plateau, often referred to as 'The Roof of the World'.
Both itineraries encapsulate the many aspects of the country that appeal to the discerning traveller: spectacular mountains (including Everest), unspoilt scenery, welcoming and hospitable people and the most spectacular Buddhist Monasteries in Eastern Tibet.
Tibet has had something of a chequered history over the last half century or so, ever since the Chinese invasion in the 1950s, which decimated much of the cultural heritage, and caused a large part of the population, including, famously, the Dalai Lama, to seek sanctuary in India.
Since then Tibet has become an autonomous region within China and many of the monasteries that were destroyed have been restored. The Tibetans themselves have maintained their traditions and kept alive their unique, eccentric and spiritual culture that makes the country such very rewarding place to visit.
The Spirit of Tibet tour is a comprehensive itinerary that moves at a relaxed pace, covering the most significant monasteries around Lhasa and the provincial towns of Gyantse & Shigatse.
It also ventures to wilderness areas to explore Lake Namtso, the hot springs of Tidrum, hermit caves & remote nunneries.
Finally you will head slowly west to the high Himalayas, with an overnight stay at Everest Base Camp for unforgettable views of the world's highest peak before descending from the plateau to the lush tropical Kathmandu Valley in Nepal. The holiday costs from £3495 pp (two sharing).

The Train to Tibet tour commences in northern China taking in the classic cultural icons of Beijing, Xian and the Great Wall – with an opportunity to walk along two remote sections.
Continuing to Xining, board the train to Lhasa for a spectacular 24 hour journey over the deserted Tibetan Plateau, passing high altitude lakes and jagged Himalayan peaks and nomadic settlements en route.
The journey aboard the Qinghai-Tibet Railway – the highest in the world reaching 5072m above sea level – continues to Lhasa with a chance to see the cultural gems of the capital, and on through provincial Tibet to explore ancient ruins, influential monasteries, glacial lakes and rural towns. The holiday costs from £3895 pp (two sharing).
The price of both trips includes international flights, all ground transportation, 16 nights' B&B (plus additional meals as per detailed itineraries), sightseeing/entrance fees, and private, chauffeur-driven tours throughout.
For more information, visit bambootravel.co.uk.
Bamboo Travel offers holidays to Tibet, China, Thailand, Vietnam, Cambodia, Laos, Myanmar, the Philippines, Indonesia, Borneo, Malaysia, Japan, Mongolia, Sri Lanka, Taiwan and Bhutan.