World Expeditions launches The Great Himalaya Trail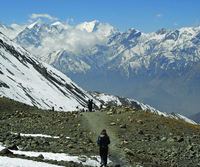 The next big thing in trekking has just launched: for the first time ever the Great Himalaya Trail is now available through a specialist tour operator.

The Great Himalaya Trail is the longest and highest alpine walking track in the world. It winds between the largest mountains and remotest communities on the planet, connecting five Asian countries (Bhutan, China, India, Nepal and Pakistan) and covering more than 4,500km, from Namche Barwa in Tibet to Nanga Parbat in Pakistan.

Currently, only the Nepal section (1,700km) is available to traverse, as it is the only part that has been walked and mapped thoroughly (the other countries are still being researched). All of Nepal's 8,000m peaks can be viewed along the trail, while trekkers also have the opportunity to experience remote cultures in hidden corners of the country – a true exploratory experience.

The Great Himalaya Trail in Nepal has been documented - from its start in the east at Kangchenjunga to its completion in western Tibet - by author and adventurer Robin Boustead, who worked closely with World Expeditions to create the inaugural supported treks on this trail.

Unique to trekking specialist World Expeditions, the full traverse launches in February 2011 and costs £20,500. It takes 157 days to complete, although alternatively it can be broken down to seven smaller stages:

Stage 1: Kangchenjunga Exploratory (30 days)
Stage 2: Makalu & Everest Travers via Sherpani Col (34 days)
Stage 3: Everest & Rolwaling Traverse via Tashi Labsta Pass (28 days)
Stage 4: Langtang via Tilman Pass (18 days)
Stage 5: Manaslu & Annapurna (26 days)
Stage 6: Upper Dolpo Traverse (26 days)
Stage 7: Rara Lake & Yari Valley (23 days)

Commenting on the launch of the Great Himalaya Trail, Brad Atwal, World Expeditions' UK Manager, said:

"When World Expeditions launched in 1975 offering some of the very first trekking holidays in Nepal no-one would have imagined that one day the Everest Base Camp trek would become such a popular, almost mainstream holiday…. we're proud that 35 years later we're still able to continue our pioneering history in the Himalaya by launching an iconic trek such as the Great Himalaya Trail."

He continued:

"While each section of the Great Himalaya Trail offers something distinctive and different, the entire traverse is united by the cause of exploring the paths less travelled and benefiting the most remote communities. In line with World Expeditions' ethos, the financial benefits from these treks will be injected directly back into the host communities, many that never see a penny from tourism, through the ethical use of local guides, porters and carriers, as well as travellers' purchase of food, drinks and authentic hand crafted artefacts."

For more information and bookings, visit worldexpeditions.co.uk. World Expeditions' all-inclusive policy ensures there are no local payments. Prices quoted above do not include international flights, however these can be arranged on request.