Ride the rooftop of the world by train in Tibet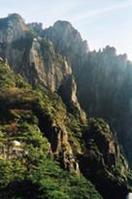 Are you an intrepid traveller? Then why not be one of the first to journey by train along the world's highest and most spectacular railway line - the first to link Tibet with the rest of China on an inspiring adventure across the Himalayan plains and souring mountains to Lhasa. The 21-day trip of a lifetime with Travelsphere costs from £2,699 and travels from Xining, the provincial capital of Qinghai to remote Tibet.

This fascinating itinerary also includes three nights' in vibrant Shanghai, a cruise up the mighty Yangtze River, the Great Wall, a trip to see the Panda's at the nature reserve in Wolong and a visit to the Terracotta Warriors of Xian – a perfect introduction for the first-time visitor or more experienced China fan. The group size on the tour has been limited to ensure the best possible experience. Departs 5 September and 3 October. Price includes all travel, meals and excursions. A 4-night add-on to Hong Kong is available from just £499 per person.

Travelsphere (travelsphere.co.uk) the UK's leading operator of escorted tours to China, has introduced this memorable trip to its new, value-packed 24-page China brochure. Prices start from just £599 for a 6-day package to Shanghai including visits to the traditional Old Town, the Bund and an optional visit to the historic canal city of Suzhou.

Billie Austen, Product Director says: "China has always had an aura of mystique attached to it. It is one of the world's oldest civilisations and visitors often feel overwhelmed by the sheer variety and volume of sights available.

"As Travelsphere have been sending UK travellers to China longer than any other escorted tour operator, we have the knowledge and expertise that can help first-timers and returning visitors get the most out of their time. But, we also have the on-the-ground savvy that opens doors to remote corners and untouched regions – and all for a fantastic price. Travelsphere aims to provide diversity and value which is coupled with incredible local knowledge.

BEST FOR VALUE: Shanghai Surprise - Six days from just £599
With its range of shops, glamorous hotels and fantastic markets, the city of Shanghai has always been known as a place where smart travellers head for a bargain. Travelsphere offers the excitement of China's newest and hippest city-break destination starting from just £599 per person for a 6-day stay on a bed and breakfast basis with dinner included on day two and lunch on day three.

The city combines the best of the magnificent old town and European influence of the Bund with chic style and contemporary architecture. An included city tour takes in the Nanjing Road, the teahouses of Wu Xing Ting and beautiful Jade Buddha Temple. There will also be the opportunity to take a leisurely journey by train to Sizhou – situated on China's historic Grand Canal.

Those with more time to spare can take full advantage of a 5-night break to Beijing and X'ian from just £399 per person which showcases some of China's most amazing cultural treasures, including the Terracotta Army, Tian an Men Square, Summer Palace and Great Wall. Price includes all travel, meals and sightseeing plus the services of an experienced Travelsphere tour manager. Departures available May through to November.

BEST FOR CULTURE AND CHARM: Ancient Water Towns & Shanghai – Ten days from £799
City boy or country girl? There's no need to decide between the two on this stunning 10-day tour of Shanghai and its surrounding water towns. Enjoy the big city feel of Shanghai and then continue south on a leisurely journey to Zhujiajia - a charming town of canals and bridges, before heading to Tongli - situated on the shores of Lake Taihu and connected by 49 stone bridges. The final leg of the tour takes you to Suzhou – undoubtedly one of China's most beautiful cities with traditional architecture and elegant gardens and canals.

Highlights include a rickshaw ride to the local markets, a cruise along the Grand Canal to Pingwang and Hangzhou – described by Marco Polo as one of the most beautiful cities in the world. Price includes all travel, meals and sightseeing, plus the services of an experienced Travelsphere tour manager. Departures from May through to November.

For more information and bookings visit travelsphere.co.uk.