Celebrate a traditional Burns Night in North Somerset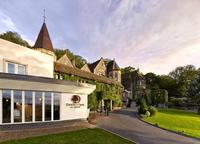 A traditional evening to celebrate Burns Night is taking place at the region's premier hotel DoubleTree by Hilton, Cadbury House in Congresbury.
The annual Burns Night party filled with Haggis, whisky and bagpipes will raise money for the Guide Dog Association on Saturday 24 January.
Guests will not only be able to tuck into some delicious Haggis, neeps and tatties but enjoy the sounds of the 10-piece Shirley pipe band which will give the evening a true Scottish flavour.
After grace the supper will start with a traditional Scotch Broth. This will be followed by the arrival of the haggis which will be brought in on a large plate by the head chef supported by the pipers.
The cutting of the haggis will be accompanied by Burns' famous poem, Address to a Haggis with plenty of wee drams to help the proceedings go smoothly! The party will continue with a disco until 1am and guests are asked to wear black tie.
Colin Badcock, general manager at DoubleTree by Hilton, Cadbury House said: "Burns suppers are great occasions. There are lots of traditions and we hope to hold true to many of these during our own Burns night.
"January is often quite a dull month so this event will give people something to look forward to and the black tie theme combined with the setting makes for a really fun, elegant night.
"It is also great to help support the Guide Dog Association and we hope to raise as much money as possible for such a worthy cause. Some of the puppies in training will even be parading on the evening."
Tickets to the event cost £35 per person for a four-course dinner and entertainment. Overnight packages are available for £159 for two people sharing.
For further information, visit cadburyhotelbristol.co.uk.