SuperPro Nissan Pulsar Panhard Rod bush upgrade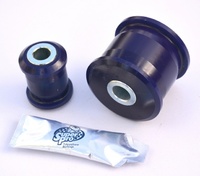 SuperPro, the revered Australian chassis and suspension specialist, has released details of its Panhard Rod bush upgrade for the now increasingly rare Nissan Pulsar. As a modern-day Japanese classic, particularly in GTi-R form, these cars are now becoming quite collectible and deserve the very best in chassis upgrades.
The Australian manufacturer has a comprehensive catalogue of upgrade parts for this, one of the truly iconic tuner platforms, to allow discerning owners to improve feedback and precision, without sacrificing ride quality or inducing harshness into the car's demeanour.
The kit fit all engine variants of the Pulsar and is a direct replacement for the OEM parts. Although aimed squarely at daily driven models, the capability of these bushes has been proven beyond doubt by years of abuse in motorsport applications. This has been achieved by SuperPro's unique polyurethane formulation. Not only does it offer more progression than some of its harsher rivals, but noise, vibration and harshness levels are kept very close to OEM starting points, creating a car that involves and rewards the driver, without ever being intrusive.
The whole kit, part number SPF4191K, is priced at £25.00 plus VAT
For more information, visit superpro.eu.com.