Volvo launches clothes collection with truck design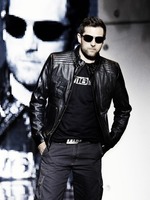 To coincide with the launch of its new range of trucks, Volvo has announced the availability of an in-house designed merchandise collection. The range comprises more than one hundred items. From exclusive leather jackets to UV-safe baby clothing, bags and watches to other practical and lifestyle products. All the items will soon be available from Volvo Truck Dealers and also via the Volvo Truck Nation internet shop at : volvotrucknation.co.uk.
"We wanted to do something that was entirely unique in the industry," says Magnus Koeck, brand manager at Volvo Trucks. "Instead of putting our logo on standard products, we and our truck designers have worked closely together with well-established fashion designers. We've worked for a year to create our very own product range from the ground up."
Faithful to the product in design terms
Form, pattern, colour and material have all been taken more or less directly from the trucks and applied to clothes, bags, footwear, watches, toys and a range of other products. For example, the radiator grille pattern is echoed on the shoulder sections of the jackets. The pockets are shaped like Volvo truck headlamps. Bag handles are made from the very same leather that is used to trim the steering wheel. And the watch casing looks exactly like the truck's instruments.
"We've been very thorough with every single detail," reveals Magnus Koeck. "The feel, the function, the quality – it all breathes Volvo and it's all patent-protected."
Two collections
The new range consists of two collections: The FH16 Collection and The Volvo Trucks Collection. The former is linked to Volvo's most powerful truck model, the Volvo FH16.
"Just like the truck itself, the clothing has to radiate power and pride," explains Åsa Rönström, project manager at Volvo Trucks and the person behind the development of the new collections. "This collection has a masculine and powerful attitude and is inspired by motorcycle sport, which we know many of our customers like."
The other collection, The Volvo Trucks Collection, is broader and more family-oriented. Here the emphasis is on modern, stylish and functional garments for both recreation and work, according to Åsa Rönström.
Both collections feature clothes and accessories for women as well as men. There are also lots of articles for children, among them T-shirts with UV protection, bibs, comforters, games and toy vehicles.